Punjab is one of the most affluent states of India. It is situated in the north of the country. The adjoining states are – Jammu and Kashmir, Himachal Pradesh, Haryana and Rajasthan. The state's contribution in the freedom struggle of the country and now in the development work is commendable. The state is bestowed with rich culture, tradition and history.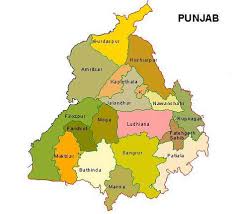 The people are healthy, wealthy and jovial. It is very important to know about this state not because examinations' point of view but for the sake of interest also. There are many exams in the state for the Jobs and Admissions and there are a no of Questions of General Knowledge and Current Affairs which are frequently asked in such exams. So we are preparing some of the Punjab GK Questions for your benefit in the exams. So get ready to check them.
Punjab State General Knowledge Questions
When did Punjab come in to existence ?
Ans – 15th Aug 1947
What is the Capital of Punjab ?
Ans – Chandigarh
How many districts are there in the state ?
Ans – 22
Which is the largest city of Punjab ?
Ludhiana
Who is the Governor of the state ?
VP Singh Badnore took the charge from Kaptan Singh Solanki
Chief Minister of Punjab is Sardar Prakash Singh Badal ( Shiromani Akali Dal )
How many Legislative Assembly seats are here ?
Ans – 17
GK of Punjab with Latest Current Affairs
How many candidates does the state send to the Parliament ?
Ans – 13
What is the nature of the Punjab Assembly ?
Ans – Unicameral
What is the total area of Punjab State ?
Ans – 50,362 Sq km
What is the rank of Punjab in the country as far as area is concerned ?
Ans – 19th rank.
Total Population of the State is –
20,704, 236 as per the Punjab 2011 Census
What is the official language of the state ?
Ans – Punjabi
What is the literacy rate of the state ?
Ans – 76.68 %
What is the emblem of Punjab ?
Ans – Lion Capital of Ashoka
What is the state animal of Punjab ?
Ans – Black buck
The state bird is – Baaj
State Tree is – Tahli
Which is the chief river of Punjab ?
Ans – Indus
What is the state Game ?
Ans – Kabaddi ( In Circle )
State Dances are – Bhangra ( Men ), Giddha ( Women )
Which Mughal Emperor had visited the langar of Guru Amar Das ?
Ans – Akbar
Which Mughal Emperor had arrested Guru Arjun Dev Ji ?
Ans – Jahangir
Which Guru moved the Sikh community to Anandpur ?
Ans – Guru Tegh  Bahadur
The post shall be updated with more Punjab GK Questions. So keep visiting the page.
For more General Knowledge Questions click here.