Around a million candidates who had appeared in the Feb UPTET held at various examination centres in the state can check Result on 27th of March 2016 at the official website. We shall update this post with the UPTET Paper 1 and Paper 2 Result with its appearance at the official website. Read about UPTET and Result in detail.
UPTET Result Latest News – It is informed that the Uttar Pradesh TET Result which was much awaited has been declared on 27th of March. The candidates can check it from below the page. There click on the link and fill your Roll No and Code and click again on the Proceed button. Best of Luck !
Why is UPTET Result awaited ?
UPTET is imperative for the teaching aspirants of the state. The test is held for Upper Primary Level and Lower Primary Level. There are thousands of Teachers' vacancy in the state. For that the candidates having essential qualification and UPTET Certificates shall be applied.
So this is the golden chance for the candidates to clear this UPTET and get those jobs. But carrying this UPTET certificate shall not make you eligible for the posts. The candidates will have to undergo other Recruitment Process. So UPTET 2015 Result is much awaited. Wait for a few mare days for this TET Result of Uttar Pradesh. There are a large no of posts lying vacant in the state. The Recruitment of such posts may come out any time. So there is a great curiosity of know the TET Result.
View your Utter Pradesh TET Result from below –
First of all,Uttar Pradesh Basic Education Board, TET conducting body of UP, shall prepare and publish UPTET Answer key on 8th of Feb 2016. Then the experts shall be engaged in preparing the Result for UPTET. The candidates need to attain 90 Marks out of 150 marks. The Result shall be out on  27th March 2016.
Click here to check your UPTET Feb 2016 Result .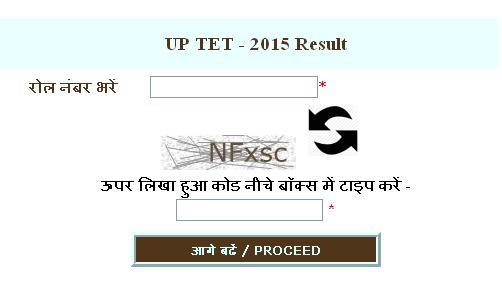 Some important points about UPTET 2016-
There were around 9,30,168 candidates appeared in UPTET.
671796 candidates were for Higher Primary Level and 258372 for Lower Primary Level.
B.Ed candidates were not allowed to take this Primary Level UPTET.
In 2011, B.Ed candidates had got opportunity to grab jobs meant for Primary Teachers as lakhs of posts are lying vacant in UP Primary Departments.
Seeing the no of the candidates, the UPTET was held in two shifts.
Next UPTET in October 2016
The candidates who took Feb TET and didn't fare it good must not feel sorry as UP Govt may hold next UPTET in October 2016. The decision to this effect shall be taken after UPTET 2015 Result in March. So get ready to have other opportunity. This 2015 TET took place after two years in Feb 2016.
Check UPTET Last Years' Results –
IN 2013 TET, total 722566 candidates had appeared and 102755 ( around 14%) candidates had cleared it.
In 2013 – 14 TET, 778807 candidates had appeared and 194700 ( 24.99% ) candidates had cleared the exam.
2015 UPTET – The Result is still awaited.
For UPTET Answer key, Result 2015 update you must visit the page frequently.