Ch Devi Lal University (CDLU) is ready to publish Date-sheet/ Time Table for its Semester ( Regular), Private, Re-appear candidates. The exams( 1st and 3rd Sem) occurs in the Month of April/ May for UG classes.
And for PG Classes as in KUK, the exams happen during extreme summer in June/July. For the Second and Fourth Semester and for Re-appear candidates, the university holds exams in Nov/ Dec.
After the exam, the university sends the answer-sheets to the evaluation centre of the university. There are hundreds of colleges affiliated to it. These evaluation centres make sure that concerned teachers check them properly. After the evaluation work, the result branch checks it and upload it at the official website. The students can also check it by visiting the Result branch of the university.
If you want to check CDLU date-sheet, you can click here. or
https://www.cdlu.ac.in/date-sheets/
The pass students get promotion and those who are not able to clear the exam have to face re-appear exam. Those who are fail have to take the exams after one year as the fresh candidates.
Link for checking CDLU Results.
CDLU offers numerous nos of courses in Regular and Private capacity. This is one of the youngest universities of Haryana. Since its inception on April 5, 2003, the university has made progress leaps and bounds in the field of education and no of students. The Motto of the university is that dedicated students get knowledge.
Check CDLU Date Sheet ( Time Table) and Download Admit Card/ Roll No.
CDLU releases Admit Card around 10 days before the exam. The students can download them online. The university also sends them to the address of the students.
Before the exam date-sheet, the university releases the exam notification. From here the students get the date of starting of exams. Then there are date-sheets for Theoretical and Practical Exams.
The date-sheet for UG Classes April/ May 2022-2023 has not been out so far. The PG class exam schedule will also come soon.
Official link for all UG/ PG Semester Regular / Private Classes Exam Dates
How to access to Date-sheet –
After clicking here, you will reach the new page. Here you will have to click on Theory/ Practical/ Notification link.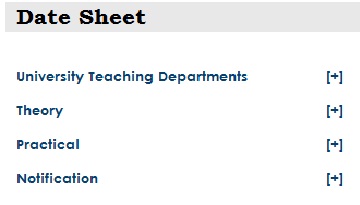 You will find your date-sheet and related news.
For downloading your admit card, go to the download link at the home page. There search for the key word and click again. Fill your registration no and download your roll no. We shall provide you the direct link for your Roll No card later.
Check some of CDLU exam dates –
M. Phil Physical Education 1st Semester
M.Phil English 1st Semester