Rabindra Nath Tagore also known as Gurudeva is amongst the greatest poets of the world. He was a versatile personality. He was a great playwright, teacher and a great musician and social reformer. Mahatma Gandhi had a great respect for him.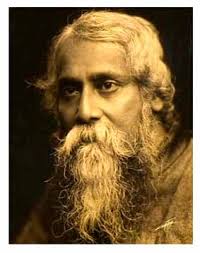 Guru Rabindra Nath Tagore was born in a rich Bengali family in 1861. His father's name was Maharishi Devendra Nath Tagore who was a big zamindar. He got his primary education at the Calcutta Normal School. He learnt Sanskrit, Grammar and Astronomy from his father.
His elder brother taught him English Literature. It was the influence his elder brother that Tagore began writing poems from a very early age. When he was 17, he went to England for higher studies. He joined the University College, London. After a few years, he returned to India.
Tagore was a bilingual writer. He used to write in both languages – Bengali and English. Gradually he became  a famous poet. His master-piece was Gitanjali. This is an anthology of songs.
Again in 1912, he went to England and translated it in to English. The poems were highly appreciated there.
Rabindra Nath Tagore An Essay
In 1913, he received the most reputed Nobel Prize for his book Gitanjali. In 1915, the University of Calcutta bestowed on him the Degree of D.Litt. The same year, the English Govt conferred on him the title of Sir.
By now, Tagore was world famous. After the World War 1, Rabindra Nath Tagore made a world tour. He went to America, Europe, China and Japan. Wherever he went, he got a royal reception. Everywhere he went, he delivered the message of peace.
In 1901, he had started a school at a village named Bolpur. The school was called Shanti Niketan. In 1912, it was changed in to a University. The University was christened as Vishwa Bharti. He also taught in that university. Students would respectfully called him Guru Dev.
Tagore suffered a no of misfortunes in his family. His wife died in her early age. His daughter also died when she was young.
Then his father and youngest son died in 1905 and 1907 respectively. He died in 1941 at the age of eighty. We will always remember him as a great poet, nationalist, musician, dramatist and painter.