Mahatma Gandhi is one of the greatest leaders of not only our country but the whole world also. Besides a famous politician, he was a great Mahatma and Saint. His real name was Mohan Das Karam Chand Gandhi. But due to his noble actions, people would call him Mahatma Gandhi. He was really a great soul.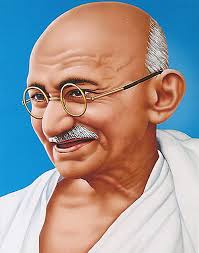 He was a great apostle of peace and truth. Gandhi Ji sacrificed everything for the sake of his country and countrymen. People appreciate him and remember him more for his principles of Ahimsa and Truth. People were so much inspired from him that they would lovingly call him Bapu – the father of Nation, which is really a great honor for any person.
Mahatma Gandhi was born at Porbandar ( Gujarat)  on 2nd of October 1869. His father was the Dewan of the state. His mother was a religious lady. Gandhi Ji inherited many qualities from his mother.
Gandhi Ji passed his matriculation from Rajkot. For higher studies, he went to Samaldas College, Bhavnagar. For doing Law, he went to England. From England he returned as a Barrister after three years.
Gandhi Ji new the importance of hard work. He taught people the use of spade and spinning wheel. Gandhi ji did not consider any work low or big. He believed in the dignity of work. Gandhi Ji wanted to serve the people from wrong and injustice. This feeling took him to South Africa.
There was the maltreatment against Indians and Local Black people. There he fought against the policy of apartheid. His struggle made the English surrender in that country. There he also did Satyagrah. He did not take rest till Indian Relief Act was passed. He became very popular as savior of the people.
When Mahatma Gandhi returned to India, he began his practice as a barrister in Bombay High Court. But he didn't get the desired success in this profession. After sometime he joined the Indian National Congress.
In 1924 he was elected President of the Indian National Congress at Belgium. He threw himself heart and soul into India's struggle for freedom. He initiated the Non- Co-operation Movement in 1920 and Civil Disobedience Movement in 1930.
It was only under his leadership that in 1920, the Simon Commission was boycotted by all the nationalists. He always tried to ensure Hindu Muslim Unity. In 1942, Gandhi Ji started Quit India Movement. In 1930, he violated Salt Law by making salt from sea water.
For his anti-govt actions, he went to jail many a time. Due to his sincere efforts and miraculous leadership, the country got freedom in 1947 without using any violence.
Gandhi Ji was the incarnation of truth, courage, gentleness and love. He always followed the path of Truth and also advised the people to do so. Gandhi Ji did not believe in any type of discrimination on the basis of caste, colour and creed. He wanted united India.
On January 30, 1948, Nathu Ram Godse assassinated him in a prayer assembly at Birla House Delhi. Addressing the mourning people, Pt Nehru had said on radio, The Light has gone out of our lives and everywhere it is dark." It is said that the words " Hey Ram " emerged from his mouth at the time of his death.
People like Gandhi Ji never die. They remain immortal in the memory of people. So long as India and her freedom live, the name of Gandhi Ji will be enshrined in the heart of every Indian.
There is a beautiful description as how Gandhi Ji commenced his journey towards making India Fee in the Biography " Life of Mahatma Gandhi " by Louis Fischer. The excerpt called " Indigo " is in the syllabus of 10+2 Class.