Essay/ Speech/ Article on Diwali – Diwali Wishes/ Messages / Diwali Wallpapers/ Beautiful Images
Essay/A short Speech on Diwali/ Messages/ Links for Images

This Year ( 12th of November 2023, Sunday) the whole of country is celebrating Diwali festival. On this pious occasion of lights, the whole team of Exam Web wishes Prosperous and Happy Life to its thousands of visitors.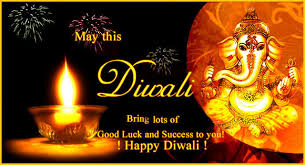 Diwali or Deepavali or Deepmala is a festival of illumination ( light ) that is celebrated with great enthusiasm not only in India but other parts of the world also. This is the biggest festival of the Hindus that comes either in October or in November.  This year this Diwali festival will fall on 12th of November 2023, twenty days after the celebration of Dusshera ( 24th of Oct 2023 )
The legend behind it is that Lord Rama had returned to Ayodhya along with his consort Sita and brother Laxman after spending 14 years of exile and killing demon Ravana. The people of Ayodhya gave them hot welcome by burning earthen lamps ( Diyas ). As the whole of Ayodhya was illuminated by lamps, the festival got its name Diwali.
The whole of markets and localities are decorated and illuminated with fancy lights ( diyas are replaced by electric lights and candles these days ). The preparation begins a few days ago. White wash and paints are the common sights during these days. Needless to say, the markets are full of rush with shoppers getting crazy for purchasing each and every thing they can.
These days online shopping has become bigger craze. Great crowd of costumers throng at the Sweets Shops and Cracker Stalls. It would be true to say that this festival belongs more to children for they get the chance to play with fireworks and eat sweets ( though these days they are not fond of eating them, sweets have been substituted by chocolates and  toffees ).
The festival begins with Dhanteras followed by Naraka Chaturdasi. We in our childhood would call them Kaani Diwali or Mori Diya and Chhoti Diwali respectively. On Dhanteras people worship Wealth. They purchase metals like gold or silver as per their capacity and at night worship it wishing more prosperity for themselves ( money begets money policy works here).
Diwali Original Messages with links with posters/  Wallpapers at the end of this page -2023 – 2024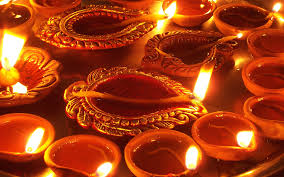 On Chhoti Diwali also people do the worship and preparation for the next day. Then comes the main festival called Badi ( main ) Diwali the next day. The day is very hectic. There is much work like giving final touch to all preparations. Shopping reaches its climax. Time flies and lo ! the evening comes, the most important part of this festival. The whole of the city wears the look of a bride.
There is a muhurat ( auspicious time ) for Luxmi and Ganesha Poojan. People take utmost care to accomplish this ritual as it is the essence of Diwali. The jewellery along with other deities is also worshiped. People sing hymns and chant mantras to please these deities of Prosperity and health.
But this time hangs heavy for the children as their crackers start teasing them by now. They feel like leaving this worship in the lurch to do the most important work of Diwali, though they are not conscious as to how much damage they are doing to their own environment.
After causing pollution, sorry I mean  burning crackers, people take their dinner or people take their dinner before enjoying the fireworks or both the things go simultaneously.
For the mute animals this moment becomes the most horrible one as they find no place to go and sleep peacefully. They often become the soft target of some urchins on this day. Then after enjoying this last segment of this festival, people go to the beautiful lap of sleep.
Download Diwali Messages / Posters /Wallpapers/ Images from below –
Diwali is symbolic –
Diwali is a festival of symbols. The festival is the symbol of joy, happiness and prosperity. This festival of lights is celebrated on Amavasya ( when the moon is invisible ). The darkness is the symbol of ignorance and evils of the world. The light is the symbol of enlightenment and prosperity.
When light comes, the darkness disappears. When a person gets knowledge, ignorance flees. And when crackers are burnt, demons run away to save their lives. Cleanliness of houses symbolizes cleansing of mind and heart. So the great message is that this year Diwali must be clean and pollution-free.
Latest Update about Diwali 2023 – 2024
Happy news for kids that there is no blanket ban on crackers on this Diwali. But there is some restrictions. People can only use green firecrackers. Green Firecrackers mean the crackers with less polluting stuff. There is a time bounding of using them . The timing is – 8pm to 10 pm.
Don't use Chinese Products on this Diwali. Only use earthen lamps and India Made Products On this day.
Diwali Wishes /Messages –
May this Diwali bring more joy and prosperity to you and your family and those who love you and those whom you love !

Wish you a very bright and prosperous Diwali.

May this Diwali fill every corner of your life with light ( joy ) and remove all darkness lurking there !

Another Message – May the sweets of Diwali sweeten your life to the core !

May the lamps of Diwali keep burning and providing you light for ever !

May Goddess Luxmi and Lord Ganesha stay for ever with you and your family !

Enjoy and let others enjoy Eco-friendly Diwali.

Happy Diwali
Very soon we shall add some more Diwali messages here. If some of our friends possess any good message and wish to share that with us, they are welcome here. For that use comment box below.
Download Diwali Wallpapers and Images –
You can also send Diwali Wallpapers and images 2023 – 2024 to your dear and near ones on this great occasion. Use the links below –
Diwali Message and Wall Link 1
Read a Report on Diwali * – How we Celebrated Diwali in our School
Exam Web wishes its readers very prosperous and joyful Diwali 12th Of November 2023, Sunday.
Dussehra – 24th Of October 2023, Tuesday.  
Chhoti Diwali – 11th of November 2023, Saturday.
Diwali – 12th Of November 2023, Sunday.