Links are being provided below for Admit Card/ Roll No /Exam Date for 2022-2023-2024 HTET JBT ( Level I ), TGT and PGT  ( Level II ( 2) and III (3 ) –

The page contains each and every information regarding year-wise HTET Schedule ( 2022 -2023-2024 ). You an check it from HBSE/BSEH website.
Update December 2022 –
.BSEH will conduct the exam of HTET on 3rd and 4th of December 2022 i.e. on Saturday and Sunday respectively. BSEH has also released Admit Card for this exam on 26th of November. You can download yourAdmit card by visiting Official Website i.e.https://haryanatet.in/ or https://bseh.org.in/.

Update 2022 –
BSEH may conduct HTET 2022 on 3rd of December 2022 and 04th of Dec 2022. . The Admit Card/ Roll No. may be available four or five days before HTET 2022. The admit card/ roll no. may be available 26th of Nov. 2022 at the official websites of HBSE or HTET – http://htetonline.com/ or https://bseh.org.in/
Dates of Exams 2022-2023-2024 ( 03rd and 04th of Dec 2022 )

Update 2021 –
The exam for HTET 2022 will take place on 18-19 Dec 2021. The candidates can apply till 25th Nov 2021. Board President Mr. Jagbir Singh, Vice President Mr.V.P. Yadav, and Secretary Mr. Krishan Kumar were there. While applying, the candidates must produce one of the ID proofs ( Aadhar Card No., PAN Card No. or Passport No. )
If any applicant applies for more than one level, his/her candidature will be rejected. For improvement in the application form, the last date is 28th Nov. The admit card/ roll no. will be out on 10th of Dec 2021 at the official website i.e. https://haryanatet.in/ or https://bseh.org.in/

Old stuff –

He further told that the concerned candidates would have to deposit the fee required at the Board Cash Counter. To present the amendment letter, the candidates will have to present physically in the Board Office.
Admit Card Jan 2021 –
The admit card for the Jan 2021 Exam may be on 2nd and 3rd of  Jan 2021. Use the under-given link to download them.
Latest about HTET December 2018 –
There is no base related with stay or Test Postpone. There is no violation of directions related with NCTE. State govt can make amendments in the pattern of Exam Under RTI Law 23 (2). Moreover, the state will have to follow the minimum required measures set by NCTE. That's why we suggest the candidates to concentrate on their Dec Exam. Besides don't focus on any rumor spread by any print or electronic media. Best of Luck.
Year 2022 HTET Exam Schedule –
Dates of Test are – 12th Nov. and 13th Nov 2022. The admit card/ roll no. may be out on 2nd of Nov. and will be available at official website.

Moreover check important details in the table ahead –

HTET 2022-2023-2024


| | |
| --- | --- |
| Name of the Events 2022 | Schedule |
| HTET Level 1 2 & 3 | Dec. 03 and Dec. 04 |
| Application receiving last date | 31-11-2022 |
| Date of downloading Admit Card/ Roll No. |  4 or 5 days before the HTET 2022 ( probably from 26th of Nov 2022) at the official website http://htetonline.com/ |
Admit Cards/Roll Nos. Update -The admit card/ roll no. link is below.

Click on the following websites for Admit Card –
Related Content –
For HTET Admit Cards related information read the Tribune Clip from here. Latest News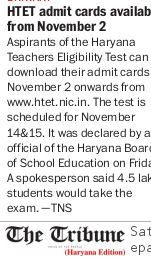 Check HTET Syllabus-cum-Preparation Tips
Haryana General Knowledge and Current Affairs Questions
Haryana TET Admit Card 2022-2023-2024 / Confirmation Page –
Get Whole Information from ahead.
Official website –
http://htetonline.com/
It is well-known that the Haryana govt conducts the Eligibility Test every year for the candidates who wish to enter the education sector at the school level with various capacities as per their educational qualification.
This year around Four lac and Seventy Five Applications have been received from the aspirants out of which the female candidates are more than the male candidates. This no is much higher than that the last year.
This year HTET has come up after a long period and secondly the Posts for Post Graduate and Trained Graduate Teachers in various subjects are out. The candidates are given exemption for cracking the HTET by the Interview Schedule.
It means that the candidates not  having HTET at present can apply for these posts and by clearing the HTET of this time they can be eligible for these posts.
Sample Admit Card Page –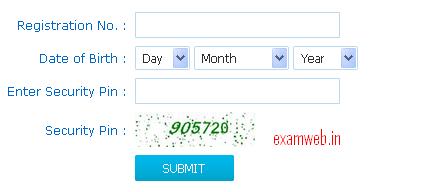 Fill these boxes for the purpose.
Download HTET 2022-2023-2024 Roll No/Admit Card/ Exam Date – Dec. 2022
The Board will conduct the HTET Exams in Dec. 2022. The notification to this effect is out. The Admit cards/Roll Nos 2022 will be available on the official website –
http://htetonline.com/
Check HTET Schedule and Pattern at one Glance –

There are papers for PGT, TGT and JBT Candidates for the eligibility for such posts. As per the latest info, the Level 1/ 2/3 Exam will occur on 18th and 19th Dec. 2021.
The timing of the tests for all the three levels shall be 150 minutes. The test having 150 marks has two parts  – 90 + 60 marks with the former ( 90 marks ) is the General test where as 60 marks portion is for the Specific Subject.
Main Website – http://htetonline.com/ or https://bseh.org.in/

The examinees shall be required to submit the details such as the Registration No/ DOB and Security Pin etc for getting their Admit Cards/Roll Nos. After you have taken out its print, you need to read all the details written on it. In Case, there is any error, you contact the concerned authority.
Press Note 2019 – Read this note to have knowledge regarding about dos and don'ts in the exams. These are instructions which candidates must follow strictly. Use the following
HTET Math Paper – Check your Preparation
The candidates who had applied the change of mode of examination from Online Mode to traditional Offline Exam can check their names from here.
HTET Update for Admit Cards – As you know that HTET has been postponed to be re-scheduled in October 2015, the candidates shall be able to download their Admit Cards anew. There shall be no need of registration once again. As per the indication, the HTET Re-schedule may take place by October End because of HBSE 10th and 12th Exams also. Whatsoever may be case, we shall provide you latest update regarding HTET. The Roll Nos shall be available at the same links above.

6th of Dec 2017 HTET –


Hopefully Roll No card may be out after 15th of December 2017. We shall make your card available to you as soon as they are out to you.


Another official report says that around 4.5 lakh candidates will  take this Dec 2017 test. The board will keep minute surveillance to check malpractice.

09/10/2017 News –

So Check dates ahead –

Confirmed HTET dates – December 03 and December 04, 2022.


Therefore Admit Card / Roll No.may be available after 2nd of Nov 2022. Besides, we shall keep updating the post regularly. Therefore, be in touch.

Haryana TET 2022 Notification- HBSE website


हरियाणा शिक्षा बोर्ड एच टेट परीक्षा  Dec. 2022 में आयोजित कर सकता है।
Using Unfair means in HTET is a matter of Past Now –
HTET News –

First of all there is the news for those who had applied for HTET 2015. Around 11,000 Candidates who had applied for it and even paid the application fee have been rendered disqualified as they couldn't confirm their application fee later. Around 4 lac and 50 thousand candidates have applied for HTET this time out of which there are 3 Lac women and 1,50,000 men. result of HTET to be announced level wise. The Board has made it clear that there shall be no place for the unfair means this time. Fool-proof security check up shall be observed this time.
Duration of HTET –
The duration of Haryana Teachers' Eligibility Test is for five years. When STET ( now HTET ) had begun it was for life-time. However later it was reduced just for Five years due to which the candidates keep taking this exam as the Job Opportunity is less and this time period is nothing in comparison to that.
Check HTET Exam schedule and other details

What are the essential lowest HTET Marks for all the categories ?
For the General Category it is 60% means 90 Marks out of total 150
For the SC Category – 55% which means 83 marks
Now Check some HTET Previous Years' Questions to check Haryana TET Preparations –

The verb form of half  is –
Ans – Halve
I am not used to ——— on the left.
Ans – Driving.
A poem written on the death of someone loved and lost.
Ans – Elegy
A strong, uncontrollable desire to steal things –
Ans – Kleptomania
Check more questions on GK and Current Affairs for HTET  from here.
The HTET shall take place for PGT Category from 2:00 pm to 4:30 pm for thousand of candidates. This HTET is more important for these candidates as HSSC has already conducted PGT Screening Tests for all the subjects.
Even the candidates without HTET applied for the test. Now these candidates shall have to qualify in this state eligibility test and get new update at HSSC. Only then they shall be the part of PGT Selection Process.
There are rumors that HTET 2015 may be late owing to the threatening from the Private Schools' Association. They say that they would not allow the conduction of this test in their school premises owing to Haryana Govt Policy of 25% EWS Quota for poor children and Celebration of Children's Day on 14th of November.
Therefore get every information about 2022-2023-2024 HTET Schedule ( Exam Date/ Admit Card /Roll No. etc . ) from the following website – https://bseh.org.in/