Give me blood and I will give you freedom ( तुम मुझे खून दो मैं तुम्हें आज़ादी दूंगा। )- these energetic and magic words from the mouth of Subhash Chandra Bose had stirred the youth of the country and all of them were ready to follow him blindly to make India Free.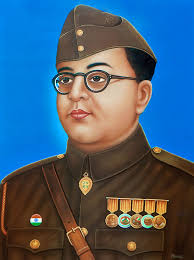 Netaji Subhash Chandra Bose as he is popularly known among his countrymen gave his everything for the sake of the freedom of the country. He is also known as the Mystery man for the people of the world. The mystery shrouded over his death is still to be unraveled. Even the govt has disclosed around 100 papers related to his life and death to the countrymen.
Subhash Chandra Bose has been a charismatic leader whose only mission to arouse the patriotic feelings among the people to fight against the English. The slogan " Jai Hind" which is one the lips of every Indian is also the contribution of this great leader.
Bose was born on 23rd of January 1897. His mother, Prabhawati,  was a pious lady who brought him up as per her plan. His father Rai Bahadur Janki Nath was the chairman of Cuttack. He was the man of national views.
He relinquished his title of Rai Bahadur in 1930 as an opposition to the cruelty of the British Rulers in India. His son Subhash Chandra Bose had borrowed these national views from him. The father was rich, so his childhood was spent comfortably. The parents left no effort.
Subhash Chandra Bose – An Essay
Subhash Chandra Bose was the most intelligent student in his class. As a child he showed the sign of a great leader when an English Professor made some unwarranted comment about Indians. Bose couldn't tolerate this insult and consequently he beat that Professor when he was only a student of 10th class.
For this act he was expelled. From his childhood he was social worker. So he used to slip into neighboring villages for a day or two. After helping the poor, the needy and the sick he would come back home.
Besides he had a great thrust for Spiritual knowledge. He joined the Scottish Church College to continue his education. He passed his BA in 1919. Then he went to England and cleared the ICS Exam. That time under the leadership of Gandhiji, non-cooperation movement was going on in India. Bose also decided to serve the country and as a result, he resigned from the ICS Post.
Bose was affected by the simple living and high thinking of CR Das in 1921. He became the Principal of National College founded by CR Das for Indian Students. Then, he boycotted the arrival of Prince of Wales in Bengal. He was arrested and sent to jail. In 1922, Congress contested elections. He edited the paper Forward to help Congress, Khadi and Charkha.
Netaji also worked as Executive Officer in Calcutta Corporation. He was again arrested and sent to jail without trial. People stood to support him against this illegal action of the govt. As a result, he was released in 1927.
Subhash Chandra Bose – A Biography
In 1928 he boycotted Symon Commission and again was landed in to jail.He fell ill. There was the public pressure on the govt and he was released. For treatment, he went to Switzerland. There he got the chance to meet big leaders. When he returned India, he was again sent to jail. In 1938, the country elected him the President of Haripura Congress.
There was the difference of opinion with Congress regarding the attainment of freedom, he parted his ways. He then organised Forward Bloc. In 1940, he was sent to jail for opposing Holwell Memorial in Calcutta. He wanted freedom for the country by his own military method, so he escaped in the disguise of an Afghan.
Facing difficulties and spying, he reached Germany. Hitler received him warmly and promised all possible help. He received military training for two years here. He became a good general. Here he also made Indian National Army from the Indian War prisoners. Then he came Japan so that he could be nearer to India. Here also he raised army.
The total no of INA was around 5 lakh. The morale of INA was very high.They were all disciplined. All were ready to do or die. With this army Netaji attacked India from the side of Assam. He won Singapore, Kohima, and Imphal. The goal of the army was to win Delhi. It was the time of Second World War.
But the luck was not in the side of Subhash Chandra Bose. Japan surrendered in 1945. He flew to Japan but unluckily the aeroplane in which he was going got crashed. He was believed to die in that crash. But most of the Indians even today believe that he had escaped from that crash and mystery of his death is still to be revealed.
2nd Sept 2016 Updates –Last moments of Subhash Chandra Bose's life – 
Bosefiles.info, a UK website has revealed some facts related with Netaji's death. The Japan Govt Report says that Subhash Chandra Bose had died in plane crash in Taiwan on August 18, 1945. He was 48 years old that time. According to the report, as the plane took off and rose about 20 m above ground, one petal of the propeller of the left wing broke and the engine fell off.
It made the airplane unbalanced and it crashed in to ballast piles. The whole airplane got wrapped in flames. Bose also got wrapped up flames. But he managed to come out with serious burn injuries. Immediately he was taken to Nanmon Branch of Taipei Army Hospital.
Till around 7 p.m., he was in conscious state and even talked with Adjutant Rahmin. However, suddenly he lost his consciousness and his heart beats stopped. Doctors did their best to revive him, but this great leader succumbed to his burn injuries. Bose's mortal remains were cremated at Taipei Municipal crematorium on August 22.
जय हिन्द।