Read a short Essay/ Speech / Satire ( Opinion) on Dussehra in Simple English / A short satire

Date of Dussehra in 2022 – 5th of October, Wednesday

Diwali 2022 – 24th of October, Monday
There is a shocking news that in various parts of the country Ravana has refused to get burnt on Dussehra this time. In order to put a full stop at the speculations arising out of this incident, the spirit of Ravana reached the Media Centre in the capital of the country to face volleys of sharp questions.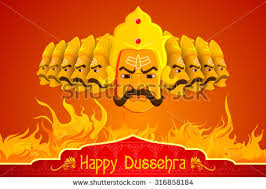 One reporter asked him " Why have you refused to get burnt on Dussehra, Ravana Sir ? Ravana Replied politely but couldn't hide his apparent dejection. " Why must I be burnt every year for that crime  I had committed thousands of years ago ?"
" You had kidnapped a woman and kept her in your captivity for one year. It was the crime against woman. That's why." Replied another journalist.
Ravana's eyes were gleamed with a point. "Yeah, that's why I am telling you that mine was not a grave crime. Just a kidnapping! No charge of molestation, no accusation of rape. Even from today's Penal Code standard, the punishment must have been just an imprisonment of a couple of months and that is also bailable. And for that minor crime you are awarding me capital punishment every year in a full public view. This is just the insult I can't bear any longer." Ravana finished on a sad note.
A Short Essay/ Article/ Speech on Dussehra Festival – A Short Satire
" But Sir ", a reporter from a prestigious TV Channel interjected, " You are a symbol of evil. Your burning is symbolic. Symbolic of victory of goodness over evil. It serves as a befitting example that if somebody does something wrong will meet the same fate. Isn't it a good reason ?"
" Don't talk rubbish. Why was I made a scapegoat every time ? Even in the past, there were many gods who did the same crimes. Take example of Indra or Chandra Dev who were found indulged in such activities over and again but exonerated with impunity.
Even today there are many leaders, ministers and even babas ( better to avoid names) who are found guilty of sexual molestation and other grave crimes but still enjoying good reputation and even made the Chief Guests of Dussehra Festivals. I feel shy of being burnt before them and it is more painful when I get burnt by their hands.
Yeah, I had kidnapped Sita just to take revenge of my sister's insult. I had not touched her as long as she was in my captivity. The other reason was that I wanted salvation by being killed by the hands of Lord Rama. If you are taking my name as a symbol of evil, these people are far bigger Ravana than I am. I am just a tiny Ravana. And I have faced the punishment for my wrongdoings.
Dussehra – Burning of Ravana
So please spare me now. Punish these bigger Ravanas. I tell you one very important thing here that even there are Ravanas and Ramas in everybody. There is the constant fight between your Rama and Ravana. Sometimes your Rama wins but most of the time your Ravana does. So please don't let your Ravana win. Make sure that every time your Rama wins. Only then your celebration of Dussehra shall be completed. Don't compare me with the one ( Ravana ) residing your body. Now please let me take your leave.
Thanks.
A word about Dussehra –
Dussehra is celebrated every year with pomp and show 20 days before Diwali. This festival is a mark of victory over evils. Lord Rama had killed Ravana and thus ended the rule by Satanic Tendencies and established the rule of religion and righteousness. On this day the effigy of Ravana is burnt in all the cities in India. The piece above you have read is just a satire on the deteriorating moral values today. You can give your comments in the box below
More Essays/ Articles/ Material for Speeches
Happy Dussehra