The whole of India is celebrating Diwali this time. So it is obvious that there are Cultural Programs in the schools on the occasion of Diwali. So the teachers may ask the students to write a Report on this celebration. We may help you in this regard. This report is also very important from examination point of view. So you can prepare this report from this page.
Diwali 2023 – 12th of November

Dusshera – 24th of October 2023
Read an Essay/ Speech on Diwali
How we celebrated Diwali in our School
A Report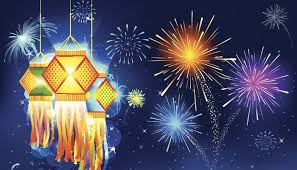 We celebrated Diwali Festival in our school last week. We decorated it with flags and earthen lamps. There was the cultural programme on this occasion. Students were wearing colorful dresses.
Some of the students had also set up stalls for food items. All these items were home-made. There were also a no of placards showing that home-made sweets are better than adulterated sweets of the market.
There was also another big event on this occasion. We had to plant trees to convert this Diwali in to Eco-Friendly-Diwali. We had given these trees names such as Bullets, Sparkles, red chili bomb, flower pots etc. The message was – Those crackers we burn on Diwali pollute our environment, these crackers will always make this pure and beautiful.
After that we enjoyed cultural programme. Students presented dances and songs. All of them carried one or the other message. Our Principal made the speech in the end. He urged the students not to play with fireworks on this festival. He also wished that the whole of India might be healthier and more prosperous.
The Principal also announced that as per the wish of the students the money collected by selling food- items would be used in purchasing shoes, dresses and gifts for the children of the slum areas. Everybody appreciated these students for generous donation. Then the programme ended with this noble gesture. Certainly it was the unique Diwali we had ever celebrated.
Rudra Gupta,
Class 12th NM
Diwali 2023 – 12th of Nov, Sunday
Dusshera – 24th of Oct, Tuesday
Our request – Don't use Chinese Products on this Diwali. Only use earthen lamps and India Made Products On this day.