Get complete information about the Tricolor of India – Important Questions on Indian Flag भारतीय तिरंगा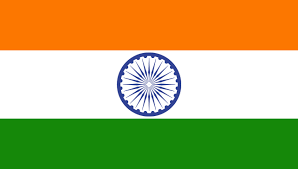 A flag of any country is the pride of the citizens of the country. The flag is the symbol of sovereignty and independence of the country. All the countries have their own flags different from others. India also owns her own flag. The flag is hoisted at the famous buildings of the country.
People also hoist it during the national festivals such as Independence Day, Republic Day etc. So National Flag has a great importance in a person's life. It is also important for the people- especially the students- to know about their National flag.
In this article, we feel necessity to inform you about our National Flag. We have prepared important questions on Indian National Flag with answers. So enhance your knowledge about the Indian Tricolor.
Q. 1 When did we adopt our Indian Flag ?
Ans – On 22nd July 1947
Q. 2 – What is the proportion of its size ?
Ans – 3:2
Q. 3. What colors make it a tricolor ?
Ans – Saffron ( above ), White ( Centre) and Green ( Bottom)
Important Questions/ Facts related with Indian Flag / Tricolour
Q. 4. What is there in the centre of the flag ( in the white portion) ?
Ans – Ashoka Chakra with 24 spokes
Q. 5. What is the color of this Ashoka Chakra ( wheel) ?
Ans – Blue
Q. 6. Who had designed it ?
Ans – Pingali Venkayaa
Q. 7. When did the Supreme Court of India give the private people to hoist the national flag at their private buildings ?
Ans – In 2002
Q. 8. Who had filed the petition for the citizen's right to hoist the national flag ?
Ans – Mr Navin Jindal, then Congress MP from Haryana
Q. 9. What does the saffron color symbolize ?
Ans – It symbolizes renunciation or disinterestedness
Q. 10 The white color is the symbol of –
Ans – Light / path of truth/ guidance
Q. 11. What is the Green Color symbolize ?
Ans – It symbolizes our connection with the soil, plants ( Greenery)
Q. 12. The Ashoka Chakra is the symbol of ?
Ans – Law of Virtue ( धर्म  शासन ) and truth/ Wheel also denotes motion as stagnancy is the symbol of death or peaceful change
For more GK and Current Affairs Questions click here.