Get exact updates regarding the Winter  Vacation in Schools under HBSE for 2018-2019. Haryana Board Order / Letter below -

This is the mid of December and the winter is at its peak. On the main roads, fog has become constant being. In the last week of December, the situation becomes worsen. There is no visibility at all. As a result, big incidents take place every year.
It becomes almost impossible for the people to  come of their houses, especially for the students. The more difficulties are for the rural area students than their peers in the urban areas. Also they have to leave their homes much earlier to reach the schools in time. And also, the last week of December is a festival season ( Christmas Day/ New Year celebration etc. )
As a result, Haryana Govt or other State Govts have some schedule of holidays around 10 to 15 days. In Haryana, the winter holidays begin from 22nd or 22rd of December. These holidays end near about 7th of December. These dates of School Holidays are not fixed. They depend on the mood of nature. Sometimes, when there is big fog, winter holidays are stretched up to 15 December.
Last year Holidays ended by 14th of January
Winter Holidays / Vacation for 2018-2019
Holidays are a great gift for the students. They wait passionately for them. Most of the schools take December Exams before these holidays and others after the holidays. Here students must remember that these holidays are not for fun. They are the opportunity for them to prepare for the Final Exams. So they must not waste this opportunity. Reading in the quilts is a pleasant experience.
So far HBSE has not declared the scheduled for Winter vacation 2018-2019. But it is expected that the schedule will be out within 2 or 3 days. We will update this post that time. The whole information will be available at the given link below -
HBSE Winter Holidays Information - As per the letter no. issued to B.EOs, DEOs etc, the winter  vacation will take place from 1st of Jan 2019 to 15th of Jan 2019. The letter says that the school will reopen of 16th of Jan ( Wednesday ).
सर्दी की छुट्टियां एक जनवरी से पन्द्रह जनवरी 2019 तक निर्धारित की गई है।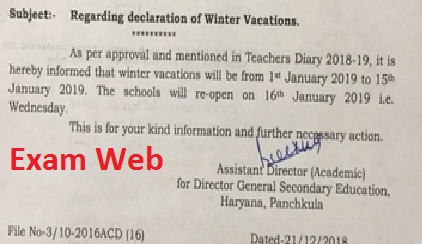 Some Private Schools don't close their schools during the vacation. For them the govt takes strict action. Even some private schools have filed petitions in the past against these holidays citing wastage of time for the students.
Note - Seeing bitter chill and fog, the board can take another decision soon.