Academic writing is the special style of writing known as "Formal Writing." It is used by different educators and students in universities, colleges, etc. As a student, you may have to write tons of research papers, essays, and other kinds of academic tasks. Doing this, you have to spend a lot of time in:
Researching.

Writing.

Proofreading

Editing.
We know accomplishing all these tasks mostly makes you deadly tired. However, we have produced some ways (i.e., AI tools) to make you easy at academic writing. Many AI writing tools can automatically handle some of your tasks while writing.
Here, we are going to cover the top seven AI tools that can improve your academic writing.
Best 7 AI Tools for Students to Improve Academic Writing
ChatGPT stands for "Chat Generative Pre-Trained Transformer." It is an advanced AI-based chatbot that automatically generates responses to human queries. Moreover, it enables users to get responses or answers in their desired Format, Language, Length, Style, and Level of detail.
For students, it is a beneficial tool to improve their academic writing. For this, they can automatically generate any type of academic content and learn from the multiple results. There they can learn the correct format, style, and layout for academic writing. Let us go practical with ChatGPT: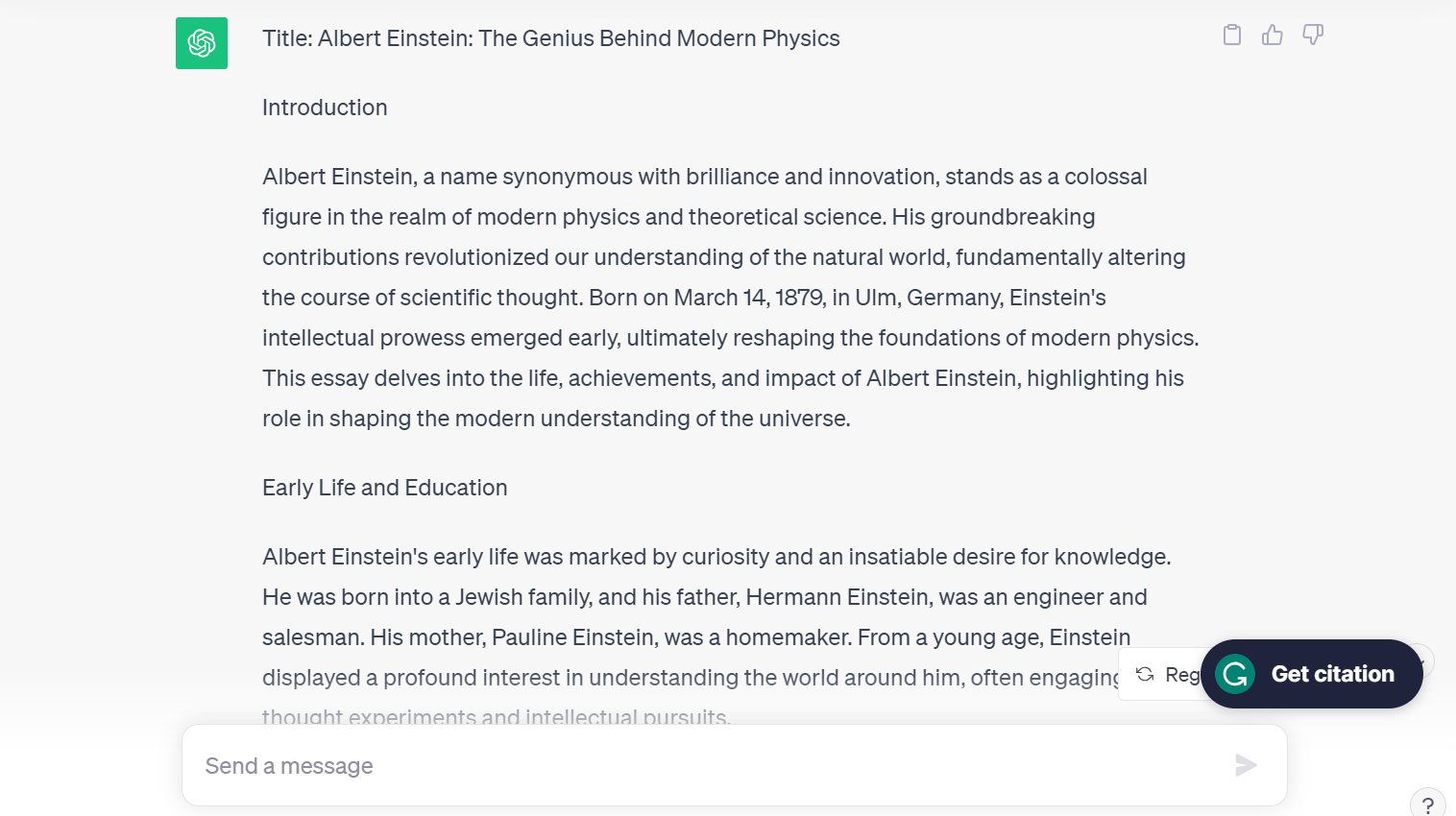 In the demo, we generated an essay on "Albert Einstein." The tool provided the best results in a matter of seconds.
Cutting-Edge Features of ChatGPT:
Advanced AI algorithm.
User friendly.
Free to use.
Generate every type of writing.
2. Paraphrase Online
Paraphrase Online tool is a free tool used for restating or rephrasing existing content. It uses "AI algorithms" to revamp the input and produce a unique output. Students can use it for the following purposes:
Polishing their writing.
Making the writing simple to read.
Removing plagiarism from the writing.
Repurposing the content in a distinctive style.
Keeping the academic tone throughout the writing.
Moreover, along with the previously mentioned uses, the rephrasing tool can be utilized for several other purposes. Let us use paraphrase online practically:

In the same way, you can rephrase content with issues in readability, tone, etc. After that, you can compare actual writing with output and get an idea about how the tools improved it.
 Main Features of Paraphrase Online:
Easier to use.
100% unique output.
Provides a free version.
Can write in an Academic Tone.
Advanced AI algorithms.
Provides multiple writing styles to rephrase in.
3. Article Rewriter
An article rewriter is an advanced tool that makes use of artificial intelligence to rewrite content without harming its sense or general idea. The tool is efficient at making your content easily readable and 100% unique. Moreover, it can improve your writing by:
Improving vocabulary.
Using novel words for creativity.
Restructuring the sentences.
Eliminating repetitive words/phrases.
So, it will use multiple ways to make your academic writing polished/improved. Let us use the rewriter practically: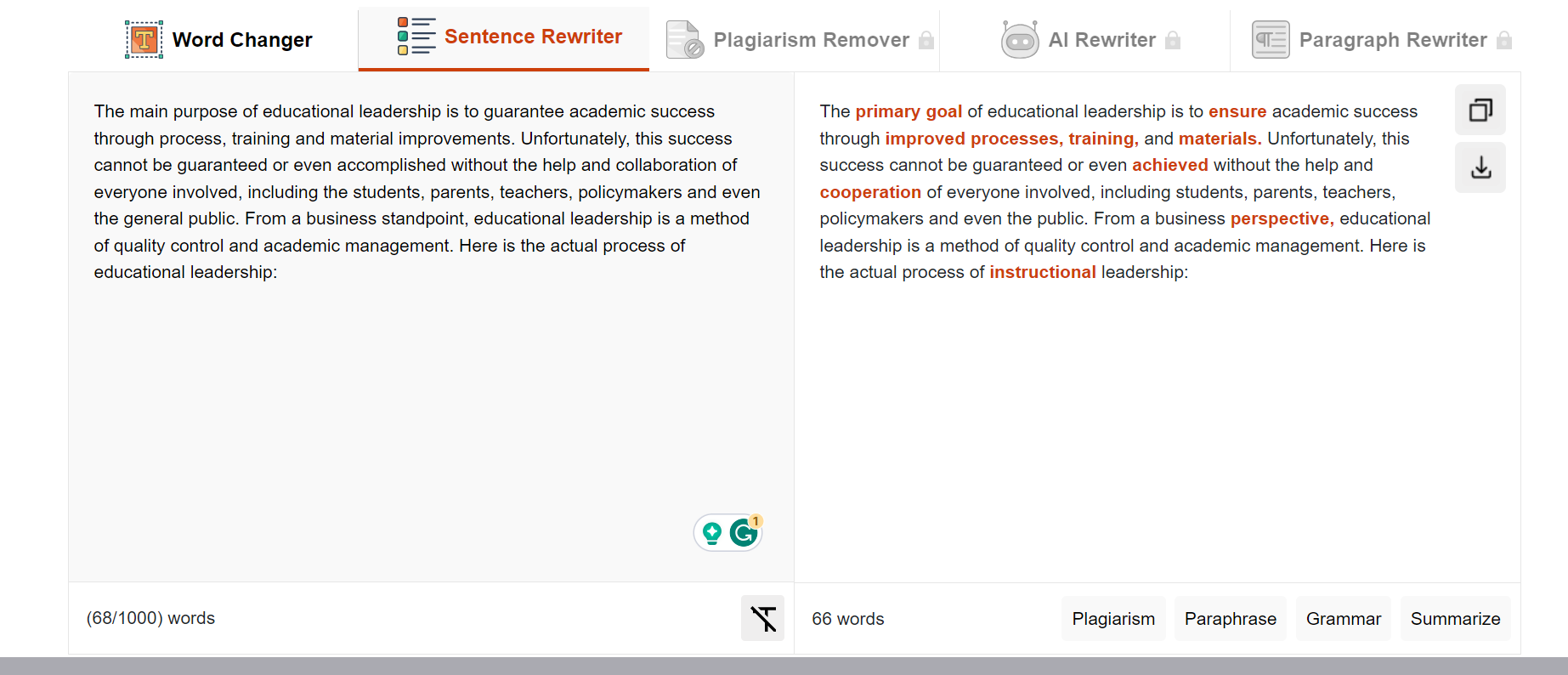 Salient Features of Article Rewriter:
Free version.
5 Distinctive AI Modes.
Supports multiple languages.
Improves readability.
Provides 100% unique results.
Integrated with "Four" other writing tools.
4. Grammar Checker
The grammar checker is an innovative "Machine Learning-based" online tool. It instantly checks all the spelling, grammar, and punctuation errors in the writing and highlights them. After that, it enables users to "Rectify all the Errors" with just a single click.
It can improve the writing of students by detecting as well as fixing all the errors in their work. Using the grammar checker makes them learn grammar, spelling, and punctuation rules.
Ultimately, this enables students to improve their academic writing grammatically correct. Let us see how the checker works: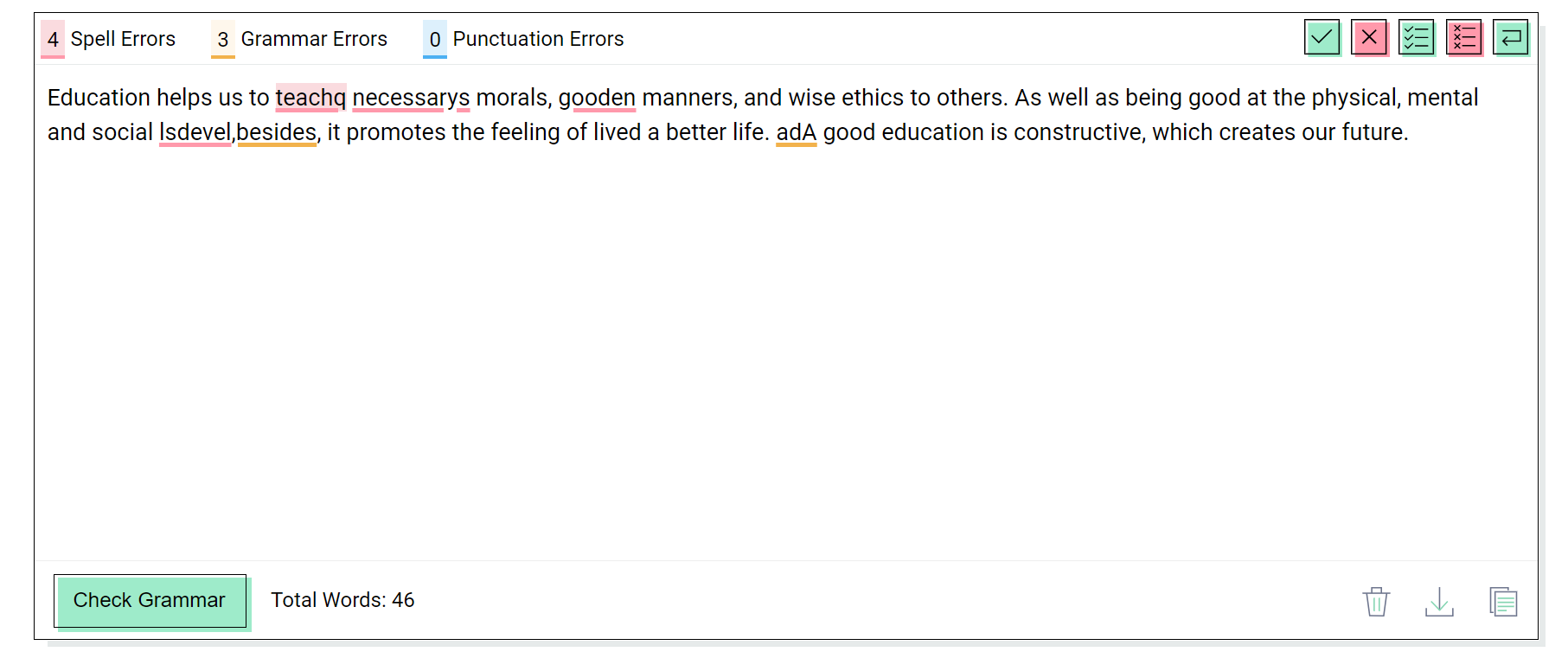 Key Features of Grammar Checker:
Free to use.
100%
Uses Advanced Grammar Rules.
Fix All the Errors Instantly.
Easy to Use.
5. Hemingway Editor
Hemingway is another helpful AI tool to be used for improving academic writing. It operates on machine learning to check the readability and make bold all the difficult sentences or words. After that, the tool gives it a score. Every score lower than nine is good. If the score exceeds the digit 9 will show difficult readability.
Moreover, the tool gives some suggestions to make the readability score reach a satisfactory level. For this, students just have to click the highlighted sentences or words and select the appropriate words.
Let us have a demo of "Hemingway Editor":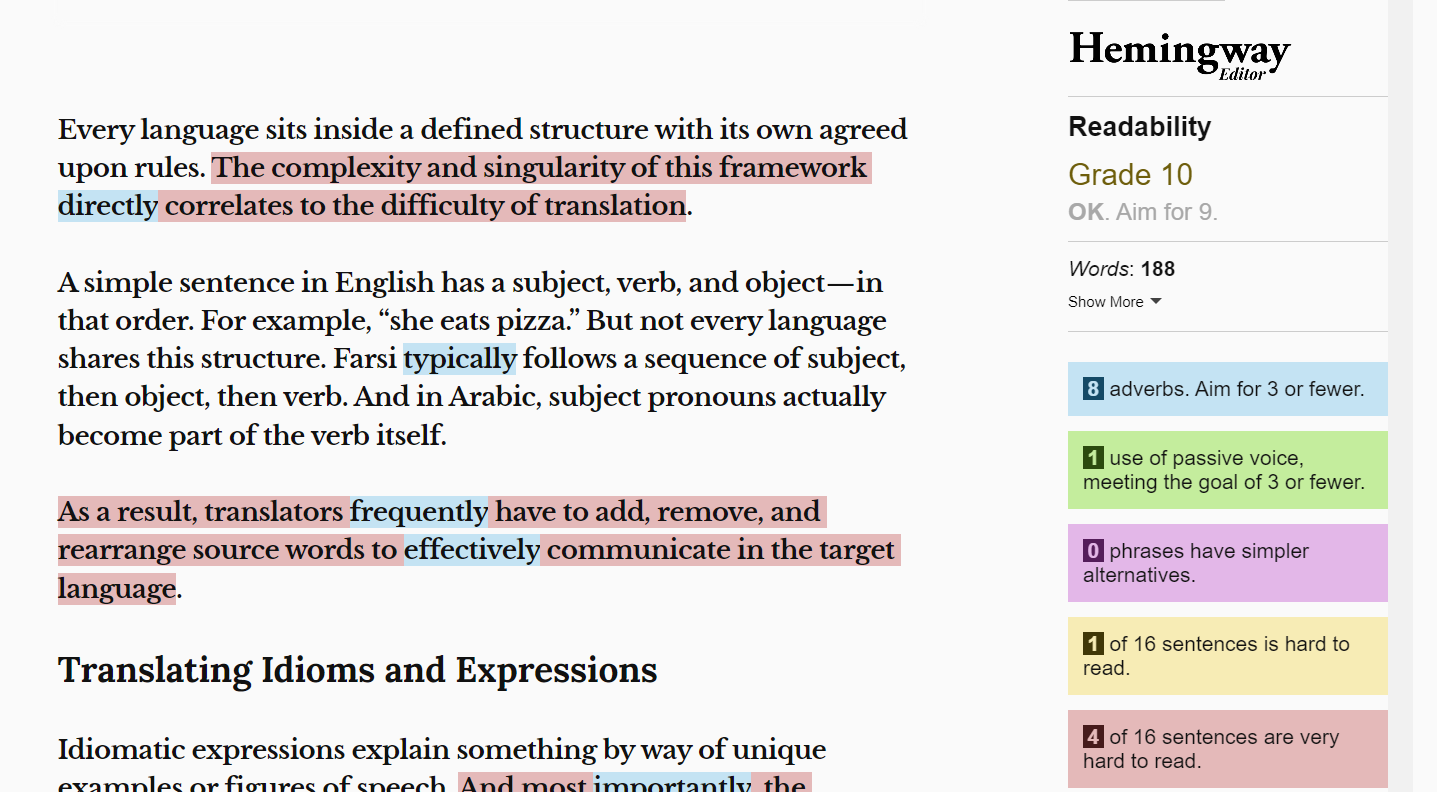 In the image, you can see Hemingway provided us with a table on the right side telling all the issues in the form of numbers and distinct colors. In a nutshell, the tool will help you boost the readability of your writing.
Cutting-Edge Features of Hemingway Editor:
No word limit.
Free to use.
Highlights all the issues.
All readability stats of writing.
Google Bard is a newly developed conversational chatbot by Google. It is based on "PaLM" (Pathways Language Model) as well as "LLM" (large language model). It gives innovative answers to the queries of users.
Students can use it to get ideas before writing their academic tasks. For this, they just have to put some queries into the Bard and get accurate details about the particular subject matter. In this way, the tool will not only improve your academic writing but also your productivity, credibility, and fuel curiosity.
Let us generate an academic task from the Google Bard: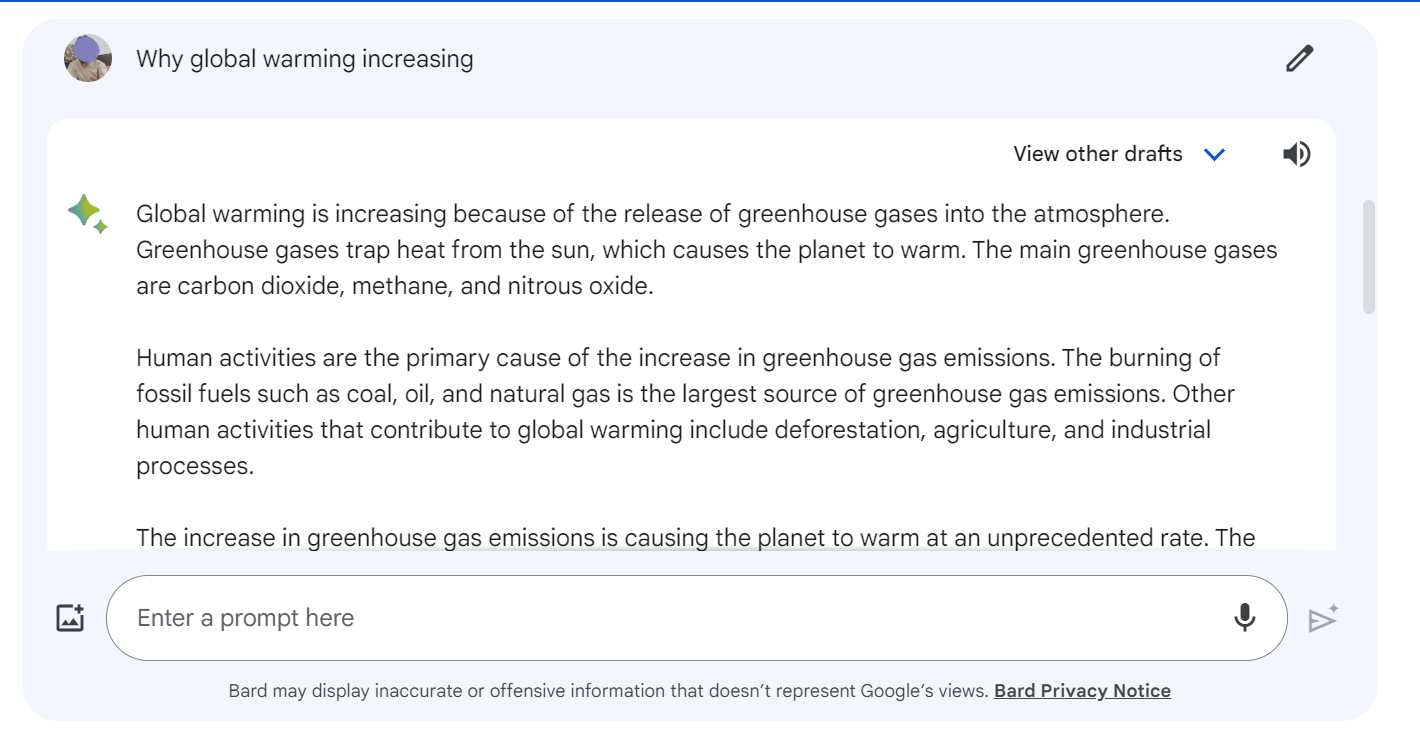 In the above demo, we generated an essay with the help of Google Bard. So, as a student, you can get the correct format for any academic assignment. Moreover, you can get ideas from the Bard and get rid of research hassles.
Main Features:
Advanced.

Accurate results.

Fast.

Up-to-date content.
7. Text Summarizer
Text summarizer is an online tool used to summarize or contract long-form content pieces into limited words. It also operates on "Machine Learning" techniques of AI. While doing the changes/summarization the tool is capable of preserving the actual/core meaning.
Students can use the summarizer to give their academic writing the power of brevity, conciseness, and clarity. Let us go practical with text summarizer: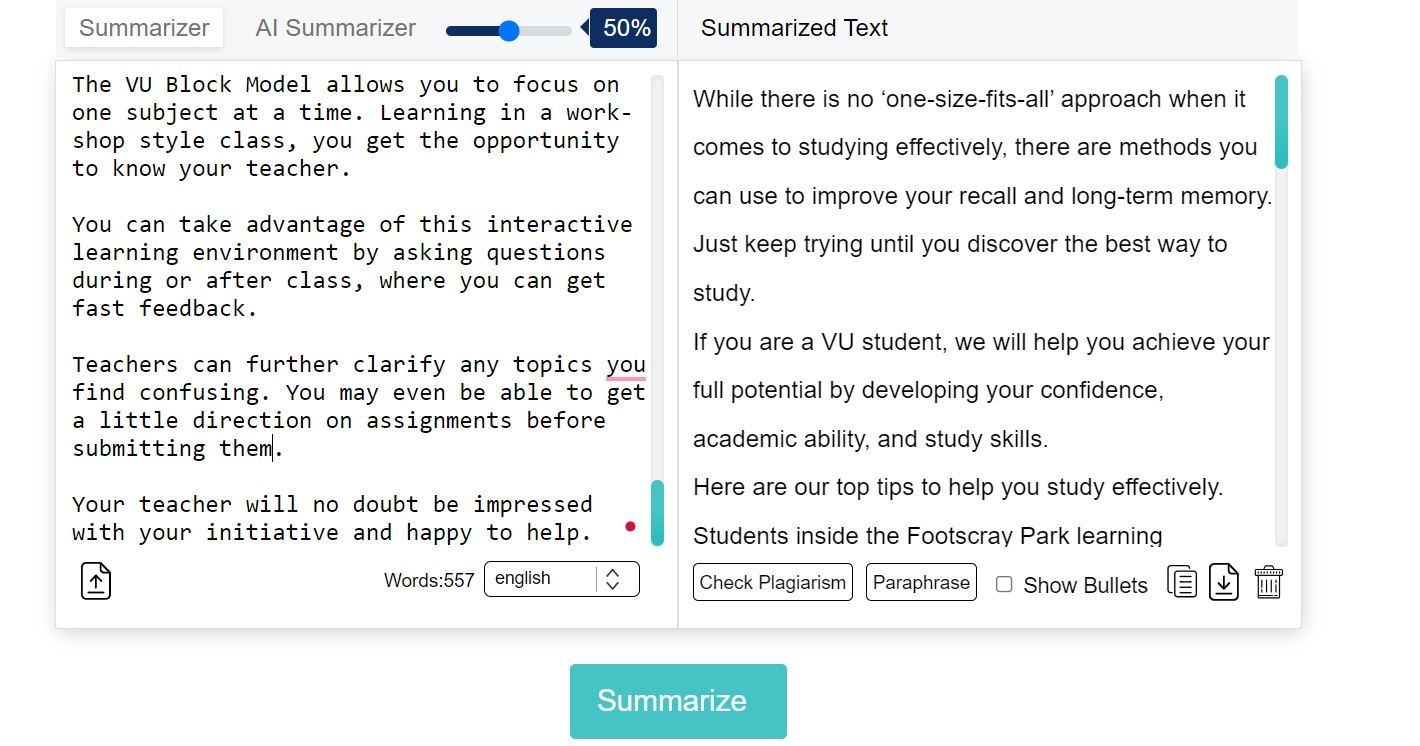 Salient Features of Text Summarizer:
Multilingual.

Free to use.
Maintain the actual meaning.
Integrated with multiple other tools.
Option for limiting the summary length.
Proficient academic writing for students is no less than a mystery. The reason behind this is the number of aspects that are needed to be considered in the formal writing. However, along with other fields, AI has brought a fabulous change in writing. Nowadays, there are several AI-based tools to help students improve their academic writing. In the above post, we mentioned the best seven of them.