West Bengal is one of the eastern states of India. The state found its existence with the freedom of the country on 15th August 1947. The state is endowed with rich cultural, traditional and literary treasures.
It can boast of having great people like poet and philosopher Rabindra Nath Tagore, a noble laureate besides other great film-makers, singers and dramatists. West Bengal has a very deep history. Its politics and geography are also varied.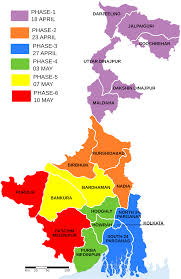 There is the need to read about this state in details for the State Level Recruitment Exams and other Competitive exams.
General Knowledge and Current Affairs Questions of the whole Country
West Bengal General Knowledge Questions / Current Affairs
Q.1 What is the capital of West Bengal ?
Ans – Kolkata ( Ancient Calcutta )
Q. 2. What is the largest city of West Bengal ?
Ans – Kolkata
Q. 3. How many districts are there in WB ?
Ans – 20
Q. 4. Who is the Governor of the state ?
Ans – Mr. Jagdeep Dhankhar
Q. 5. Chief Ministry of West Bengal is –
Ans – Mamata Banerjee ( TMC )
Q. 6. How many seats are there in West Bengal Legislative Assembly ?
Ans – 295
Q. 7. What is the name of the High Court ?
Ans – Calcutta High Court
Q. 8. What is the total area of West Bengal ?
Ans – 88,752 Sq km
Q. 9. What is the rank of the state in the country as far as area is concerned?
Ans – 14th
Q. 10. What is the population of the state ?
Ans – 91,347,736 as per 2011 census
Learn West Bengal GK and Current Affairs  Questions
Q. 11. Rank of WB in Population ( in the country )
Ans – 4th
Q. 12. What is the literacy rate  in West Bengal ?
Ans – 77.08%
Q. 13. What are the official languages of the state ?
Ans – Bengali and English
Q. 14. What is the state anthem ?
Ans – Rabindra Sangeet
Q. 15. State Dance of West Bengal is –
Ans – Gaudiya Nritya
Q. 16. What is the State Animal ?
Ans – Fishing Cat
Q. 17. Which is the state Bird ?
Ans – White-throated Kingfisher
Q. 18. State Flower of the state ?
Ans – Night-flowering Jasmine
Q. 19. State Tree is –
Ans – Chatim Tree
Q. 20. State Rivers are –
Ans – Hooghly and Damodar
Q. 21. What is the state game ?
Ans – Football
Q. 22. Name the countries bordering with West Bengal.
Ans – Nepal, Bangladesh and Bhutan
Q. 23. Name that states that share their boundaries with West Bengal-
Ans – Odisha, Jharkhand, Bihar, Sikkim and Assam.
Q. 24. Name of the West Bengal Film Industry ?
Answer – Tollywood
Q. 25. Who is the Asia's first Nobel Laureate ?
Answer – Rabindranath Tagore
Q. 26. What is Patisapta ?
Answer – A popular sweet dish of West Bengal
Q. 27. What is the biggest festival of WB ?
Answer – Durga Puja
Q. 28 Where is Terracotta temple located ?
Answer – Bishnupur
Q. 29. Which is the largest religious community of the state with % ?
Answer – Hinduism ( 70.53%) followed by Islam ( 27.01%)
Q. What are the lengths of National Highways and State Highways in West Bengal ?
Answer – 2578 km and 2393 km respectively.
Q. Something about Kamini Roy – WB General Knowledge

Answer – Bengali poet-reformer and India's woman honors graduate.
Google honors her on her 155th Birthday.
Kamini Roy's Date of Birth – Oct 12, 1864
Q. What is the present status of Shantiniketan ?
Answer – Visva- Bharti University
Q. Who and when had established this school ?
Ans – Rabindranath Tagore in 1901 on the Ashram Bhumi founded by his father Maharishi Debenranath Tagore in 1863.
Q. Name the cyclone that had caused a lot of disaster in West Bengal in Nov 2019 ?
Answer – Bulbul
Q. Speaker of WB Assembly ?
Answer – Biman Banerjee
Q. What is the new name of Kolkata Port Trust ?
Ans – Dr Shyama Prasad Mukherjee ( announced by PM Sh Modi during its ceremony of completing 150 years at Netaji Indoor Stadium )
Q. From which seat will Mamta Banerjee contest ?
Answer – Bhabanipur
Q. Who defeated Mamta Banerjee in 2021 State Legislative Assembly election ?
Answer – Suvendu Adhikari
Q. What was the name of the Chief Secretary who was transferred by the Centre ?
Answer – Alpan Bandopadhyay
Q. Who is the chancellor of the universities in West Bengal ?
Answer – Previously the governor of the state used to be chancellor of the universities in W.B. Now the C.M. will be the chancellor of all the universities.
Read More Questions on WB GK ( History ) from here.
Very soon we shall added some more questions. So keep coming.