If we talk about great leaders of the country and strongest Prime Ministers the country have ever seen, Indira Gandhi's name come to our mind first of all. She has the credit of being the first woman PM of India. She performed her duties to the satisfaction of the people of the country.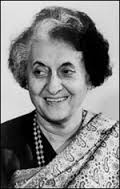 Her political Guru was her father Pt Jawaharlal Nehru, the first PM of India. Indira possessed sharp mind, strong will power and a dedicated spirit. She was famous as a World leader.
Mrs Indira Gandhi was born on 19th of November 1917. She was brought up in a political family. So she inherited political taste from the family. Indira received her education at Allahabad, Oxford and Shanti Niketan. She married to Mr Feroze Gandhi, a Parsi youth in 1942. She had two sons Rajiv Gandhi and Sanjay Gandhi.
Indira Gandhi had been the active member of Indian National Congress. Seeing her devotion, she became the President of the National Congress in 1959. After her father's death, she became the Minister of Information and Broadcasting.
Mrs Indira Gandhi – A Biography of 1st Woman PM
After the death of Sh Lal Bahadur Shastri in 1966 she became the PM of India. She held this office of PM for around 17 years. The country became stronger under her leadership.
In 1971, India won the historic war against Pakistan which led the formation of Bangladesh. All the major banks were nationalized under her rule. Then some dramatic events took place.
In 1975, Justice Sinha delivered the historic verdict owing to which there was stiff revolt from the opposition. She declared Internal Emergency to put down that opposition.
Consequently, she had to suffer a defeat in 1977 General Election. But in 1980 Mid-term poll took place and she regained her lost power and became the PM again.
Now many challenges surrounded her. One of the major challenge was of Khalistan. The whole of Punjab came in the tight grip of terrorism. The Blue Operation took place in this era. The pro-Khalistan people occupied Golden Temple. In order to evacuate it and bring the situation under control, she ordered the army to free the temple complex. There was much blood-shed.
On 31st October 1984, she was shot dead at her residence by her own security guards called Beant Singh and Satwant Singh. She succumbed to her injuries.
Rani Laxmi Bai and Joan of Arc had inspired her a lot. She was bold and courageous woman. Smt Indira Gandhi had the decision taking ability. She had the priority to remove poverty from the land of the country. For that she started 20 Points Programme. Her contribution to the development of the country can be forgotten.
The whole nation will always remember its brave daughter. She will always live in our heart.