Assam is one of north-east states of India. It is a beautiful state that comprises the valleys like Brahmaputra and Barak. Assam is one of Seven State sisters namely – Nagaland, Manipur, Mizoram, Tripura, Arunachal Pradesh, Tripura, Sikkim. All these states have a 22 km road link with India which we call Chicken's Neck.
Questions on Assam GK and Current Affairs
The total area of the state is 30,285 sq km. Assam's capital is Dispur. The state has its own geographical, political, cultural, traditional features. It is important for the examinees of various State Recruitment Exams to read about them. Therefore, we are preparing  some important GK/ Current Affairs questions related with all aspects of Assam. We hope you shall be benefited a lot.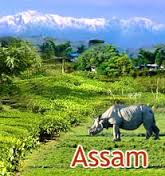 Q. When did Assam get the statehood ?
Ans – On 26th January 1950
Q. What is the largest city of the state ?
Ans – Guwahati
Q. How many districts are there in the state ?
Ans – Thirty Five
Q. Who is the governor ?
Ans – Mr Banwarilal Purohit
Chief Minister of Assam is – Mr. Himanta Biswa from BJP. Mr. Sarbananda Sonowal may be the member of upper house. He may be the central cabinet minister.
Q. What is the nature of  legislature in Assam with total seats ?
Ans – Unicameral with 126 seats.
Q. In area, what is the rank of the state in the country ?
Ans – 17th
Assam Current Affairs and General Knowledge Questions
Total population is – 31,205,576 as per census 2011
In population, the rank of Assam in India is – 15th
Q. What is the literacy rate ?
Ans – 79.18% with 26th rank in the country
Languages – Assamese is the official language with English as co-official. In some districts, Bengali and Bodo languages are also spoken.
What is the state song ?
Ans – O Mur Apunar Dex
State Dance – Bihu
Q. State animal and bird ?
Ans – One horned rhinoceros and white-winged wood duck respectively
Q. State Flower and Tree of Assam ?
Ans – Rhynchostylis retusa and Dipterocarpus macrocarpus resp
Q. What is the state river of Assam ?
Ans – Brahmaputra
Q. Who was the first Ahom King ?
Ans – Sworgodeu Chao-lung Siu-ka-phaa
Q. What is Kareng ghar ?
Ans – A palace of the Ahom Kings
Q. What are the two most prominent Wildlife Sanctuaries which are also UNESCO World Heritage Sites ?
Ans – Kaziranga National Park and Manas Wildlife Sanctuary
Q. About Bogibeel bridge –
Answer – Longest rail-cum-road bridge. Total Length – 4.94 km. Total Estimated cost – Rs 5,900 crore.
About Kaziranga National Park – It was established in 1908. The total area ti covers is 430 sq km. It is situated on the banks of Brahmaputra. UNESCO chose it World Heritage Site in 1985. It is famous for One horned rhinoceros.
For more Assam GK and Current Affairs keep coming.
Read from here more General Knowledge and Contemporary India/World Questions.