If you have immortal passion, indomitable will, limitless dreams and innocent thoughts, nothing is inaccessible in this Physical world. This thing has been materialized by a Physically Challenged Son of a Driver who overcoming all the difficulties of life from poverty to being handicapped not only managed to complete his studies but also got Job in a very reputed company called Google. Yes, this is not a fairy tale.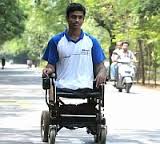 This is the story of one Guy named Naresh Karutura who first was born to a poor family, second lost his legs in a horrible accident and still didn't lose hope. It was the hope against hope. His mundane  father was a driver who had not had any extraordinary thought for him, but the Heavenly Father had a different thought for him. God had something different in store for him. Defeating all the challenges forced on him by his destiny, he did his Graduation from IIT Chennai.
Early Life –
Naresh's early life was spent in a small village of Tiparu in Andhra Pradesh. The father was a lorry driver whereas the mother a housewife. He had one sister named Sirisha. Though the parents were illiterate, they introduced the children with the Importance of Education in the early childhood. That's why the children had interest in studies from the very beginning. They did their homework earlier in the school and like other children made pranks in the afternoon. So the childhood was the mingling of both education and mischief.
The horrible incident that deformed the body but couldn't change the life –
During one Makar Sakranti, Naresh along with his father and other relatives was going to a nearby village. He was sitting near the gate of the lorry. Suddenly the door opened and a rod in the lorry pierced his legs. He got seriously wounded and in that condition he was taken to a nearby hospital where seeing his critical situation the doctors refused to treat him.
Then a police cop took him to the Govt hospital. Where due to infection ( Gangrene ) his legs were amputated. He became a pathetic figure. The father transferred to a small town called Tunuk where he was admitted to a Missionary School.
Here he did his 10th Class getting top position. His school teacher Mr Pramod Lal inspired him to do something in life. It became his dream to do IIT- JEE. He did hard work for that and got admission to IIT Chennai and after doing graduation from there he got offer from Google.
Read more motivational stories –
So this is the beginning of life for him .. A journey in which he is running !