The decision of Modi Govt to demonetize Indian currency especially the notes of Rs 500/ and Rs 1000/ has caused quake in the lives of Indians. Everywhere there is the talk of Demonetization in the country and the world.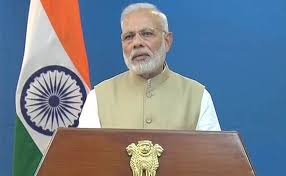 There is appreciation as well as criticism of this decision of the govt. The students must also know about the great event that may change the face of our society. Make sure there shall be some questions regarding Demonetization in the exams .
Therefore the Examinees of Banking Sector ( IBPS), SSC CGL, Railways etc must read this article. We have prepared some questions on this topic. We hope you shall appreciate our this effort.
Questions related with Demonetization of 500 and 1000 rupee currency in India ( नोट बंदी से सम्बंधित प्रश्न / तथ्य )  –
On which date did PM Narendra Modi address the Indian people announcing the Demonetization of Rs 500/ and Rs 1000/ ?
Ans – On 8th of November 2016
When did the said currency cease to be the legal tender in India ?
Answer – From 9th of Nov ( after 12:00 midnight )
What is the main motive behind this big move ?
Answer – to curb black money, terror funding and stop the use of fake currency available in the market.
When was first time such decision taken in Indian history ?
Answer – In 1946.
Which currency was demonetized that time ?
Answer – Currency notes of 1,000 and 10,000
Demonetization of 500 and 1000 rupee currency – Read Questions

Which govt did that in 1946?
Answer – Congress
When did the same measures take place after 1946 ?
Answer – 16th January 1948 by Janata Party
Which currency was affected that time ?
Answer – Rs, 1000, 5,000 and 10,000
When did 25 paisa lose its existence ?
Answer – June 30, 2011
What was the total currency in circulation in India on 28th October 2016 ?
Answer – 17.77 lakh crore
In the annual report of Reserve Bank of India of 31st March 2016, how much currency denomination of Rs 500/ and Rs 1000/ was in circulation ?
Ans – 14.18 lakh crore out of total 16.42 lakh crore
Who is Shantikanta Das ?
Answer – Economic Affairs Secretary
Whose signature is there on the new notes ?
a. Prime Minister Modi b. President Pranab Mukherjee c. Governor of the RBI Urjit Patel
Answer – c
What is the last date of tendering old currency ?
Ans – Dec 30, 2016
How much money could have been exchanged with the legal one ?
Answer – Rs 4,000 up to 14th Nov and after that it was up to 4,500.
How much money can a person deposit in his bank account ?
Ans- Up to Rs. 2,50,000
Which news paper had previously given the news of this demonetization ?
Ans – Gujarati Newspaper called Akila on 1st April 2016
Which agency shall receive the banned Old Currency after 30th of Dec 2016 ?
Ans- Reserve Bank of India
For more questions keep coming. If you have any information regarding the topic, you can share with us.
Read Essay/ Article on Demonetization and its impact on Indian Society and Economy
For more Current Affairs click here.