Ministry of Minority Affairs ( MOMA) offers scholarships to the students of minority community every year. There are two categories of scholarships namely – Merit-cum-Means-Scholarship and Pre and Post-matric Scholarship. The objective is to help the students of minority communities in completing their higher education.
In a way, MOMA ensures that no student from minority communities should leave studies in the lurch. The ministry has the logo : Learn and Earn ( सीखो और कमाओ ). In a way, the main of the MOMA Scholarship is to make these students self-efficient and self-dependent. The main thrust is on Skill based improvement.
Let's discuss all these scholarships one by one.
| | |
| --- | --- |
| Name of the MOMA Scholarship | Students Covered |
| Pre Matric Scholarship | Students up to 10th class |
| Post Matric Scholarship | Those who have 10th and pursuing further studies ( up to PhD |
| Merit Cum Means Scholarship | Post 12th for Technical and Professional Courses |
Categories covered under MOMA Scholarships –
All Minority Communities such as Muslims, Sikhs, Jains, Christians, Parsis, and Buddhists
How many students can apply every year ?
There is the limit for the students to apply for this scholarship. 20,000 ( Twenty Thousand) students of Indian nationality can avail this scholarship.
Who are eligible for the 2017 -2018 MOMA Scheme ( Eligibility ) ? -मोमा वजीफे के लिए योग्यता
For Merit Cum Means Scholarship
Indian Minority Students studying in India.
Admission to Professional or Technical Courses based on 12th class
Family income must not exceed 2.5 lac per annum
Minimum pass percentage 50% in Sen Secondary Class.
Admission sought in Educational Institutional on the basis of Entrance Test or Merit Base.
For Pre – Matric Scholarship 2017-2018
The students must read in any of the classes from 1st to 10th.
Indian citizens with good academic record.
For income, there is the same condition as above.
Post Matric Scholarship
Pursuing studies from 10+1 to PhD
Rest conditions are same as above.
Those who can't avail MOMA Scholarships – ( Ineligible candidates ) – अयोग्य प्रार्थी
If the students avail any other scholarship for education ….
If more than one member avail this scholarship…..( एक परिवार में एक ही व्यक्ति इस स्कालरशिप का पात्र है।  )
If the student discontinues his/her studies ….
Not for internship for MBBS or any other technical course. ( Only for the main course )
Read other conditions –
प्रार्थी का एडमिशन प्रतिशिष्ठत संस्थान में होना चाहिए। ( Admission to the reputed institutions through proper channel viz Entrance Test / Merit List)
स्कालरशिप राशि राज्य सरकार के द्वारा सम्बंधित संस्था में जमा की जाएगी ( The admission fee shall be deposit by the concerned state in the concerned institution's account )
हर वर्ष 31st March को इश्तेहार करना अनिवार्य है।  ( the concerned state will have to advertise for the MOMA Scheme every 31st March )
30% राशि छात्राओं के लिए सुरक्षित है।  अगर महिला प्रार्थी उपलब्ध नहीं है, पुरुष प्रार्थी इस राशि का इस्तेमाल कर सकते हैं।  ( 30% out of total amount is reserved for Female candidates. In case of unavailability of the female candidates, the male candidates can avail this amount)
What documents the aspirants need for MOMA Scheme ?
Photostat copy of Application Form duly signed by the concerned candidate.
Self attested qualifying certificates.
Self signed passport sized photograph
Income Proof Certificate
Course Fee receipt
Permanent Id
Procedure of submitting Online Application –
For Fresh Candidates –
First of all visit the Home Page of the Official Website or click here.
Here use the option Student Registration.
Application Form will appear on the new page.
Fill it up properly and then save it.
After a bit of time, the candidate shall get Temporary Id.
The candidate shall submit his/her Temp Id/ DOB /Mother's name under the option Update Student's Details.
After this click on the Finalize and Submit Button.
Take out its print and send it to the competent state authority. This shall be your hard copy.
Along with this hard copy, you need to send the documents mentioned above.
The Procedure is complete.
Procedure of Renewal for MOMA Scheme –
The student will have to reach the the link I know Permanent Id in Renewal Link under Registration Caption.
Here you shall submit your Permanent Id which you had obtained during the first year.
Then upload the scanned copies of the under given documents –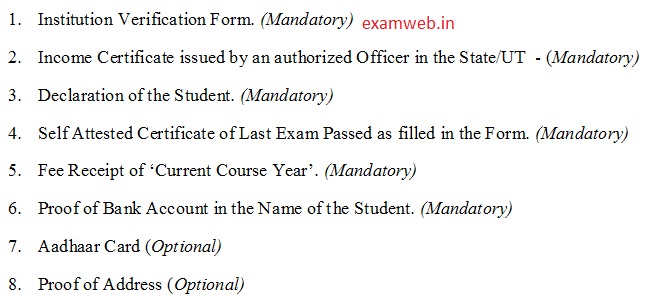 For more queries related with MOMA Scheme click here.
Official website of the Ministry – http://www.minorityaffairs.gov.in/
Read about other Scholarships and Schemes for Minorities