There is no age of doing anything in life. Success doesn't depend upon the age but determination and hard work. Youngsters who feel dejected and rejected at frivolous failures must read this story of a 98-year old young man who has scripted history by passing his MA at this stage of life.
This is the story of Rajkumar Vaishya from Patna District, Bihar. He has recently cleared his MA in Economics from Nalanda Open University with second division.
Vaishya was born on 1st of April in UP. He passed his graduation in 1938 from Meerut University. But he had the pining for doing his PG. For that he had to waited till he crossed his 90s.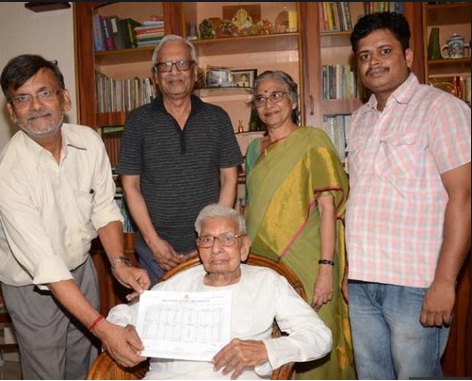 While facing the interview, he said that he had taken the decision of doing MA at this stage of life to prove that anybody can do anything at any stage of life. No work is impossible. People should only have determination and passion. Everybody can fulfill his/ her dreams. Everything is achievable  in this life. He said, " I have become an example."
It is not so that it was an easy task. It was the paramount task to regular the daily routine at this time of life. To live a student's life was not so easy. I faced problem in getting up earlier to do studies, Rajkumar admitted.
By this great success of his, he wishes to convey a crystal clear message to the youngsters that they must not surrender to any defeat. Besides, he wishes to tell them that they must not be obsessed by tension and dejection. Opportunities are available every time. They must only know the art to grab this opportunity.
The official of the Nalanda Open University told the reporters that Vaishya had taken MA 1st year exam in 2016. Now he took final year exam in 2017. He took his complete 3 hours' time to complete the paper. Besides he filled as many as 2 dozens of extra answer sheets in writing his paper in English medium.
This feat has made him include his name in the Limca Book of Record – oldest person who has done MA.
Certainly he is an open example to tell the world that nothing what to speak of age can't be a bar in achieving your dream whatsoever it is. Great achievement, Well done sir !