There is the job opportunity at Baba Farid University of Health Sciences ( BFUHS ) as the Varsity invites applications for the under given posts of Professors, Assistant Professors, Associate Professors, Sr and Jr Residents to work on Regular basis in the affiliated college of the university. Download Application Forms below –
Recruitment for various posts keep coming out time to time.  The posts are for Professors, Asst Professors, Staff Nurse, Ward Boy etc. These are in forms of Guest and Regular. The interested candidates need to check the BFUHS career related website on regular basis.
See 2018 BFUHS Recruitment/ Jobs / Vacancy/ Application Forms –
Pharmaceutics – Post 1 ( Guest in Nature )
Medical Faculty ( Non- Teaching Post ) etc
See more by visiting the official website given below.
The name of the constituent College of the university where the selected candidates are expected to work is GGS Medical College & Hospital, Faridkot. Check the details of the posts along with their nos below –
Total Posts for Professors – 09
Specialization – Microbiology, Orthopedics, General Surgery ( 02), General Medicine, Anesthesia, Nuclear Medicine, Pediatric, Ophthalmology. Except General Surgery ( 02), there is one post each.
Total Posts of Associate Professors – 12
Specialization – Orthopedics – 02, General Medicine – 02, Pediatrics -02, Immuno-Haematology & Blood Transfusion, Nuclear Medicine, Anatomy, Radio-diagnosis, General Surgery. Other posts have 1 seat each
BFUHS – Total Posts of Assistant Professors – 14
Specialization – General Medicine – 04, Neurosurgery – 02 , Gastroenterology, Nephrology, Cardiology, Endocrinology, Community Medicine, General Surgery, Urology. Others posts have 1 seat each.
Total Posts for Senior Resident  – 14
Specialization – Radio-diagnosis -02, Surgery -04, Pediatric -02,  Anesthesia -04, Radiotherapy 02
Jr Resident – 16
at Advanced Cancer Diagnostic Treatment and Research Centre, Bathinda
Assistant Professor – 02 Posts One each for Surgical Oncology and Urology
How to apply for BFUHS Recruitment/Job/Vacancy/ Download Application Forms –
The candidates are suggested to visit the official website of the university for getting Application Form, Fee and for knowing other terms and conditions.
Official Website – http://bfuhs.ac.in/careers/careers.asp
Read the Newspaper Advertisement published in The Tribune –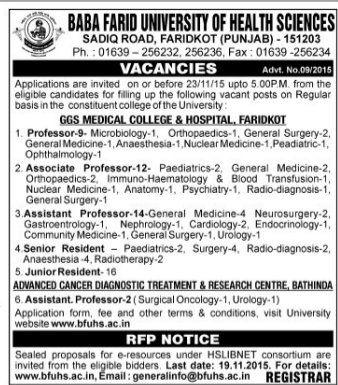 About BFUHS –
Baba Farid University of Health Sciences is one of the new universities established in 1998 by Punjab Act No 18 to improve the standard of Medical Education and Treatment. The varsity has no of faculties such as Faculty of Medical Sciences, Faculty of Dental Sciences, Faculty of Nursing Sciences etc.