Read Facts/ Highlights / Important Points related with GST – Prepare an Article/ Essay using this Info

Goods and Services Tax ( GST ) has become the reality now. After 17 years' intense deliberations, Indian Govt has imposed GST in the country from the midnight of 30th of June 2017. It means from 1st of July 2017  the whole country will enjoy all-prevalent New Tax Regime. In a way, there shall be One Tax, One Market and One Country policy in India.
There shall be the uniformity in the taxes all over the country. It means if a person has paid tax on the commodity in one state, he shall be exempted to pay tax in another state. People will get rid of the web of taxes and prices of daily use products may be down. It is said to be one of the biggest reforms after the independence of the country. That's why a big ceremonial platform was set to implement this reform. The day will remain historic in Indian history.
There are four slabs for different goods and services. These slabs are – 0%, 5%, 12% and 18%. However 28% tax shall be levied on some luxurious items such as aerated drinks, tobacco products and expensive cars.
There are myths regarding the GST in the country. In order to dispel these myths, the Revenue Department had to come forward. It is believed that initially we shall not be able to see its effects, but in the long terms we may get the desired results.
Initially, the tax rates may seem higher than the previous Value Added Tax. However, later we may find GST better as all the various taxes and excise duties are subsumed in it. But it shall be too early to say anything about this major tax reform. Only time can tell what results it will yield for us.
Read Important Questions on GST 
This new provision of tax shall discourage the evasion of taxes and no one shall be able to do under-the-table transactions. Here we are making endeavor to publish some related facts for the students and examinees of various exams by SSC, UPSC etc. This content shall also be helpful for those who wish to write an essay/ article on the topic. There may be the article or essay on GST in the upcoming board exams.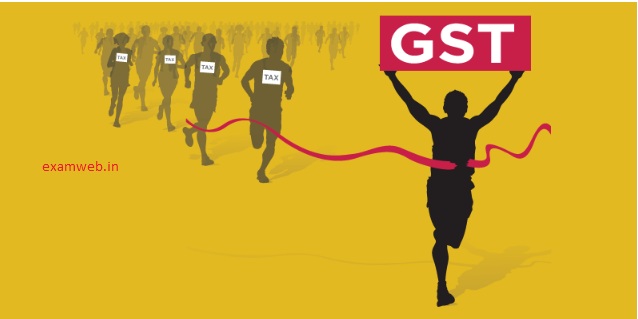 Goods and Services Tax ( GST) – Highlights/ Facts for Exams/ Essay/ Article
Note – we are providing you this information in the form of Question/ Answer –
Q. How many countries have implemented GST before India ?
Answer – 160 Countries. In this way, India has become the 161st country to adopt this reformation.
Q. How many slabs of taxes shall remain after the GST come to existence ?
Answer – Four slabs
Q. Which state hasn't adopted GST so far ?
Answer – Jammu and Kashmir
Q. Where did the President and the PM launch this tax reform ?
Answer – In the Parliament
Q. Which product was brought under the 5% slab just before the launch of GST ?
Answer – Manure from 12% slab to 5%.
Q. Name the country which had adopted One Tax policy ( GST)  and in which year ?
Answer – France in 1954
Q. How many taxes and cesses will GST replace ?
Answer – 17 taxes and 23 cesses
Q. How many commodities have covered under GST ?
Answer – 1211 Commodities
Q. How many times did the council meet for making this Single Tax a reality ?
Answer – 18 times.
We shall update this post with more Questions/ Facts on GST. Keep coming to us. Also suggest more questions. We shall also add them to this post.
How to compose an article / essay –
Use the introductions given on this page first of all. Then you can use the given facts and information to create a wonderful essay or article.
For more questions tap the follow link –
General Knowledge and Current Affairs