GK & Current Affairs Related Questions about the southern state of India – Kerala
Kerala is a truly a paradise on earth which is proved by the following nick names it enjoys – God's Own Country, Spice Garden of India, Land of coconut Trees. In History, Kerala is known as Keralam. The State came in to being on 1st of Nov 1956. The area covered by Kerala is 38,863 sq km. The states that share its boundaries are – Karnataka to its North and North-east, Tamil Nadu to the East and South.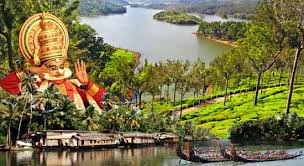 The state carries a lot of valuable information about itself which is necessary for all of us to know not only to improve their knowledge of this wonderful place but to go through the Kerala Public Service Commission's  / Staff Selection Commission's Recruitment Related written exams that contain a lot of questions about Kerala.
Learn Complete General Knowledge from here.
Capital – Thiruvananthpuram
Kerala General Knowledge and Current Affairs-
Q. 1. No of Districts in Kerala –
Ans – 14
Q. 2. Who are the Governor and the CM ?
Ans – Sh P. Sathasivam and Sh Pinarayi Vijayan
Note – New CM took oath on May 25, 2016. Along with him 18 other cabinet minsters took oath.
Q. 3. What is the total area of the state ?
Ans – 38,863 Sq km ( 15,005 sq miles )
Q. 4. What is the rank of Kerala in India as far as area is concerned ?
Ans – 22nd
Q. 5. Type of Legislature –
Ans – Unicameral
Q. 6. Total Legislature seats in the state –
Ans – 141
Q. 7. Total no of Parliamentary Constituencies –
Ans – Twenty
Q. 8. What is the literacy in the state ?
Ans – It's 93.9%
Q. 9. Official Languages are –
Ans – English and Malayalam
Q. 10. Which state in the country is known as Parshurama Kshetram ?
Ans – Kerala
Kerala General Knowledge and Current Affairs Questions at examweb.in
Q. 11. Where is Vadakkunnathan Temple located in Kerala ?
Ans – At Thrussur
Q. 12. What do we call the Tourism Promoting Initiating taken by the state which aims to share the heritage with foreign countries ?
Ans – Spice Route Project
Q. 13. Name the programme which was aimed at Turtle Conservation started in the state ?
Ans – Green Partner Conservation
Q. 14. Who was the poet of Kerala associated with Social Renaissance ?
Ans – Kumaran Asan
Q. 15. Against which evil Vaikom Satyagraha started in the state ?
Ans – Untouchability
Q. 16. Where was the said movement centred ?
Ans – At Shiva Temple Vaikom
Q. 17. At whose request K Kelappan ended his fast at Guruvayur ?
Ans – Mahatma Gandhi
Q. 18. When was Vaikom Satyagraha started ?
Ans – 1924-25
Q. 19. What do we mean by Vishnu ?
Ans – Traditional New Year of Kerala
Q. 20. Where is the temple Sabarimala located in the state ?
Answer – Periyar Tiger Reserve
Q. 21. When was the temple built ?
Answer – Before 12th Century
New Kerala Cabinet –
Prof C Ravindranath – Minister of Education
Sh AK Balan – Minister SC/ST/BC, Law and C
Sh TP Ramakrishanan – M ( L & Ex )
Read in detail about other Kerala Ministers and their Ministries
We shall add some more Questions of Kerala GK and Current Affairs. This Post is subject to repeated update. So keep coming.