South Asian Association for Regional Cooperation has the acronym SAARC. As the title suggests, it is an organization of South Asian Countries for the welfare of the member countries. This is time it is in news for otherwise reasons. 19th SAARC Summit which had to take place in Islamabad in November 2016 stands cancelled due to non-participation of its some member countries.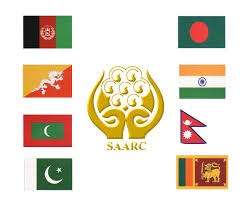 These countries are India, Afghanistan, Bhutan and Bangladesh. All these countries have cited the issues such as Pakistan Sponsored terrorism and its  interference  in their internal matters. Now we are presenting to you some Important Facts/ Dates/ Questions on SAARC. Such Questions are very important for Examinees for various exams in the country.
SAARC came in to existence on 8th December 1985 in Dhaka. The main motive of its existence is to promote development of Economic and regional unity. Its member countries are 8 in nos. These are –
India
Bangladesh
Nepal
Pakistan
Afghanistan
Bhutan
Sri Lanka
Maldives
Important Questions related with SAARC
Q. 1 How much area, population and economy of the world do SAARC countries consist ?
Ans – 3 %, 21% and 9.12 % respectively ( as of 2015)
Q. 2. Who is the Secretary General of SAARC ?
Ans – Arjun Bahadu Thapa ( Nepal)
Q. 3. Where is the SAARC Headquarters located ?
Ans – Kathmandu
Q. 4. What is the Official Language ?
Ans – English
Q. 5. How many countries does SAARC have with Observer Status ?
Ans – Nine
Name of Nine Observer States – China, Australia, European Union, Japan, Iran, Mauritius,South Korea, United States, Myanmar
Q. 6. When was SAARC Secretariat in Kathmandu  established ?
Ans – On 16th Jan 1987.
Q. 7. How many Apex Bodies does SAARC have ?
Ans – Six
Q. 8. SAFTA is related with …
Ans – SAARC
Q. 9. What is the full form of SAFTA ?
Ans – South Asian Free Trade Area
Q. 10. SAARC VISA Exemption Scheme came in to existence in –
Ans – In 1992
Q. 11. Who  has received SAARC Literary Award twice ?
Ans – Suman Pokhrel, Nepali poet, writer and translator
Q. 12 Where and when had last SAARC Meet taken place and who had chaired that meeting ?
Ans – From 26th to 27th November in Kathmandu. Sushil Koirala had chaired the meeting.
Q. 13. About First Meeting with date and place
Ans – The first SAARC meet had taken place from 7th to 8th December 1985 in Bangladesh. The host leader was Ataur Rehman Khan
Click here for more GK updates.