MP Professional Examination Board aka MP Vyapam Forest Guard 16th August Exam Answer keys can be checked and downloaded from the links below. As the exam took place on Sunday ( 16-08-2015 ), the candidates need to have a bit of patience regarding the MP Forest Guard 2015 Answer Sheet.
The Process of Preparing and Uploading of Answer keys is underway and most hopefully the Solution Keys and Expected Cut off for the same exam shall be available to be viewed withing two or three days of the exam. Most probably the candidates shall check their Answers very soon from MP Vyavasayik Pariksha Mandal's Official Website http://www.vyapam.nic.in/e_default.htm.
MP Forest Guard Written Exam – A Look
The exam conducted on Sunday from 10 AM to 12:15 PM. There were thousands of students who took this exam. After checking the Admit Cards, the candidates were allowed to enter the Exam Centre. The Paper had two parts as per the Syllabus and Exam Pattern – Maths and General Knowledge.
The former had 40 Questions with 40 Marks whereas the latter had 30 Questions of 30 Marks. Two hours were given with no negative marking. On the whole the Paper was good as per the expectations of the examinees.
What's the use of MP Answer keys ?
The answer keys shall be very useful in getting to know the exam performance before the Exam Result. The candidates shall have the rough idea of their position. They may be able to face the next procedure of the Selection as per  this guess. So from further point of view, this speculation is very important.
How to check Forest Guard Answer keys ? Steps to download it –
The candidates shall find the link of the Answer keys at the official website of MP Vyapam.
Click on this link.
Choose the Paper SET.
Click again.
The Answer keys shall appear with solution.
Tally your answers from there.
Click here for checking your Answer keys of MP Forest Guard Exam
Check MP Vyapam Vanrakshak Result / Cut Off
Check MP FG Cut Off District-wise, Category-wise from below  –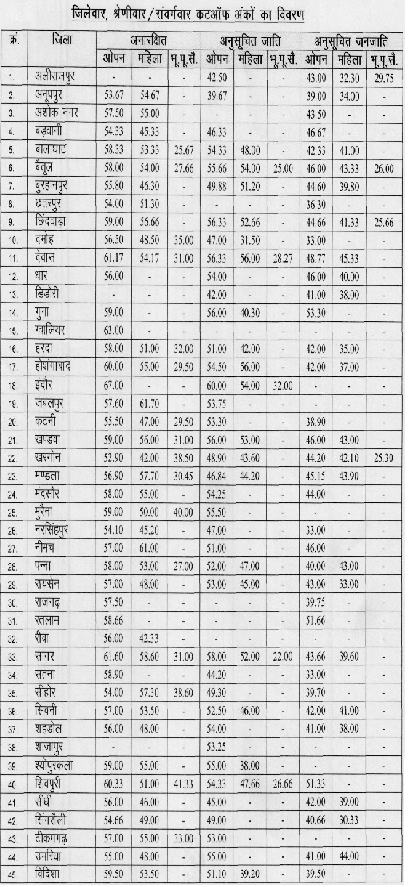 About MP Vyapam –
Vyapam is the Exam Conducting body of Madhya Pradesh. All the Entrance and Recruitment Related Exams are held by it. Then evaluation work and preparation of Result take place. Ultimately the Results are declared by it. Now-a-days Vyapam is in the news but not for the good reason, but for the bloody scandal that has caused sleepless nights for BJP and its leaders.