Haryana Govt has scrapped Interview Process for the Group C and D posts. This decision shall be effective on current and future selection procedures. The move is expected to end corruption and unnecessary political influence in the govt jobs. In a way, this step of removing interviews from the selection procedures for Group C and D category jobs will bring transparency.
No Interview for Ongoing and Future Posts
Besides scrapping the Interviews, the Commission has made new rules for the Selection. Everybody knows that the recruitment for the 55,000 various posts is going on in Haryana. Out of these posts, the commission has conducted the written exams for around 38,000 posts. These posts include Clerks, Teachers, JEs, Police Constables etc. These candidates are also waiting for the Interview process to begin.
Now as per the rule, even the candidates who have cleared the written tests by HSSC for the posts falling under Group C and D Cat. will not have to face any Interview.
New Rules for Group C and D Category Posts in Haryana – Written Test Must
Now the Written Test shall take place for 85 Marks. Fifteen marks shall be distributed as per the social and economic conditions of the candidates. In this way, total marks shall be 100. However, it shall be compulsory for the candidates to secure at least 50% marks in the written exams. Besides, the govt will make sure that there is speed in completing the selection process.
SETC must for the Job of Clerks –
For the Clerk Posts, it shall be imperative for the candidates to clear the computer eligibility test called State Eligibility Computer Appreciation and Application Test ( SETC). Those who have cleared this test shall be able to apply for clerk posts.
Distribution of 15 Marks –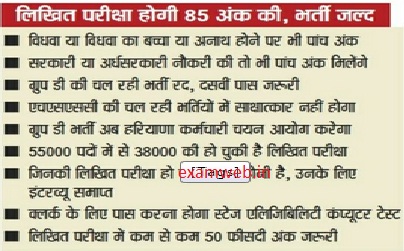 5 Extra Marks to the candidates belonging to the families where nobody is in Govt or Semi-govt jobs.
For experience in the Govt or Semi-govt jobs. For every year 1/2 mark to the maximum 10 years 5 marks.
5 Extra Marks for a Widow candidate or her children ( below 25 years), or orphan candidates ( below 25 years).
Haryana Group D Recruitment Cancelled – Check Details
Haryana Govt has cancelled the ongoing Recruitment Process for 13000 posts. The govt shall refund the fees to the candidates. The new selection process shall include the written exam. The posts for which there was no educational qualification shall require minimum 8th pass. And the posts which required 10th or 12th will now require only Matric.
The candidates shall get more and clearer updates regarding the Group C and D Posts near the recruitment. So keep visiting the official website of HSSC for any of the latest news – http://www.hssc.gov.in/