Download PSTET 2017-2018 Admit Card/ Roll No Slip from this page -
The Punjan Education Board has not conducted the Punjab TET for the year 2017. It has caused a great worry for the aspirants who wish to join teaching jobs at school level. However, they must be optimistic regarding its conduct very soon. We shall provide you all information regarding PSTET in 2017/ 2018. Keep in touch with us.
For 2018, the Punjab TET may take place in July or August. Keeping these months in mind, the candidates must focus on their preparation.
Give speed to your preparation by solving PSTET Practice Set / Previous Year's Question Paper
Punjab State Teachers' Eligibility Test ( PSTET ) 2015 Admit Card shall be released from 6th of December 2015 as the Test is to take place on 13th of December 2015 that falls on Sunday. PSTET 1 shall take place in the morning whereas PSTET 2 Shall be held in the afternoon. The Complete Details regarding Test and Admit Card are available at the official website related with Punjab TET.
The Punjab Education Board conducts Teachers' Eligibility Test every year on the pattern of CTET for thousands of youngsters in the state who have desire to hug this noble profession of teaching in the schools under the state Govt. Every year notification is issued to this effect. This time too Notification came out on 7th of November.
The interested candidates could have applied for PSTET from 8th of Nov to 23rd of Nov 2015 till 5 O'clock. For these PSTET 1 and PSTET 2, the education Qualification was D.El.Ed./ D.Ed/ ET/ B.Ed. Appearing candidates can apply for these these two levels of PSTET. You can read complete instructions from below ( Courtesy Punjabi Tribune ) -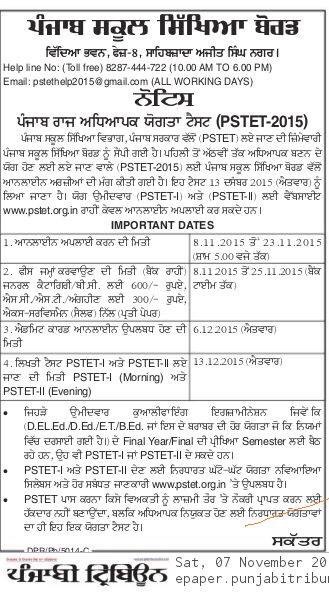 As is the common syllabus for all the TETs, there shall be the 150 Mark Paper with the division that goes as follows - 90+60. The 90 Part Paper is divided in to Language 1, Language 2  and Pedagogical Concept. The Whole pattern is as per that of CTET. Check CTET Detailed Syllabus and Pattern from here.
This is just a qualifying test that enables a candidate to be eligible for the teaching job in the state. The PSTET Qualifying marks are 60% that makes total 90 Marks.
Download Admit card/ Roll No. for Punjab TET 2018 -
Now you can download your PSTET 2017/2018 Admit Card from the following link by furnishing all the details required. The Roll No slip is very important for you to carry to the examination centre. The Instructions regarding Exam are also printed on this Admission Slip.
The Candidates are not allowed to carry electronic gadgets like mobiles to the examination centre. They are expected to reach 30 minutes' before the exam. WE shall update this post later with some more related information.
You can get your Punjab State TET Admit Card from the following link - http://www.pstet.org.in

Check Dos and Don'ts  regarding 13th Dec PSTET.