It became the historic day today ( 5th of May 2017) with the launch of South Asia Communication Satellite ( GSAT – 9). All the seven countries of SAARC except Pakistan became the eyewitness of this spectacular moment. PM Modi also described it a historic moment. He said this launch had opened up new horizons of engagement.
He also congratulated the team of scientists who had toiled to make the moment successful. You can read some of his tweets at the end of this page.
Facts / Information related with South Asia – Geostationary Communication Satellite -9 ( GSAT -9)
Note – We are presenting these facts/ information in the Question/ Answer Form to help in better understanding.
Q. Which propulsion did the scientist use for its launch ? What history did it make in this direction ?
Answer – Electric Propulsion. India became the 1st country to use this propulsion.
Q. Where did the launch take place ?
Answer – Second launch pad at the Satish Dhawan Space Centre SHAR ( SDPC SHAR) Sriharikota.
Q. Which dubious nickname did this second flight of GSLV earn ?
Answer – Naughty Boy
Q. Why did it earn this dubious nickname ?
Answer – For its poor track record with Cryogenic Upper Stage ( CUS).
Q. Name the Seven Countries which became the part of this South Asia Satellite Launch ?
Answer – India, Afghanistan, Bangladesh, Bhutan, Maldives, Nepal and Sri Lanka
Q. Which slogan did Indian PM attach with this Launch ?
Answer – Sabka Saath, Sabka Vikas
Important Questions of Geostationary Communication Satellite -9 ( GSAT -9)
Q. What is the weight of the satellite ?
Answer – 2230 kg
Q. What was the total estimated cost for the project ?
Answer – Rs 450 Crore out of which only Satellite cost Rs 235 Crore.
Q. Which Country incurred the whole expenditure of Rs 450 ?
Answer – India
Q. Which benefits will the member countries receive ?
Answer – A range of applications and services -television, DTH ( Direct of Home ), Tele-education, Tele-medicine, Very Small Aperture Terminals ( VSATs), Disaster Management Support to all the South Asian countries.
Read some of PM Modi's tweets from below –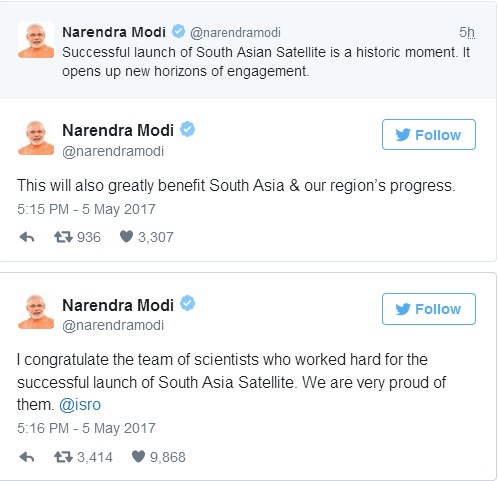 Please give your feedback as to how you liked the post. Also share your valuable suggestions with us. Thanks.