It seems SSC is not learning from the past experiences. Again the Commission had to face humiliation when there were reports of 30th April 2017 Evening Shift MTS paper leakage. Ultimately they proved to be right and the Commission had to cancel it. No doubt, the cancellation led much inconvenience to the candidates who had worked really hard for the exam.

Now after the MTS exam cancellation official news, the examinees are in search of Latest Updates regarding the Re-exam. So far there is no notification regarding the MTS re-exam.  As per the said cancellation notice, SSC shall apprise the candidates of the re-exam date as per its schedule.
The news of paper leakage had got viral before the start of the Second Phase exam. The Answer Keys of the exam got circulated at the social media. After that the head of some Coaching Centre in Patna circulated the answer key at her Facebook Account.
With that news of paper leakage got viral and the commission started getting news regarding from various states. In the end, seeing the wide scope of the leakage, the commission had to take the decision.
The examinees had criticized this incident a lot. They have requested the SSC top officials and PMO to intervene into this matter. There are some unscrupulous officials in the Commission who have nexus with the mafia who are engaged in such malpractice, they alleged.
Download SSC MTS Re-exam Admit Card from here.
There is the need to arrest such people who play with the career of the students. Even some examinees have expressed doubts over the fair holding of other exams. They have demanded strict action against such people who have spoiled the sincere efforts of the Commission to conduct the exam successfully.
Staff Selection Commission Re-exam Date/ Admit Card
Even the Director of KD Campus (Neetu Singh), one of the leading institutes for Competitive exams had raised the issue by publishing her comments at her Facebook regarding the paper leakage.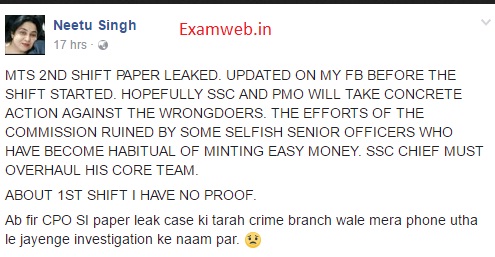 It is well-known that SSC is holding MTS exams are going on. The exams will go on till June 2017. As for the no of candidates, it is one of the biggest exams of the country.
We shall update our post soon with the SSC MTS Re-exam Schedule as well as Admit Card news. Most probably, the commission shall upload the new Call Letters for the Exam.
As per the official sources, high level inquiry shall be initiated very soon.