If you are unfortunate enough for not doing your 10th and 12th as a regular student and wish to do it from Open Board as a private candidate, you are at the right page.
And if there is a gap between your classes due to various reasons and you wish to resume your studies, you can. So you can pursue your education while earning or supporting your family. Private education is also a boon for those who fail as regular students and no school is willing to give them admission.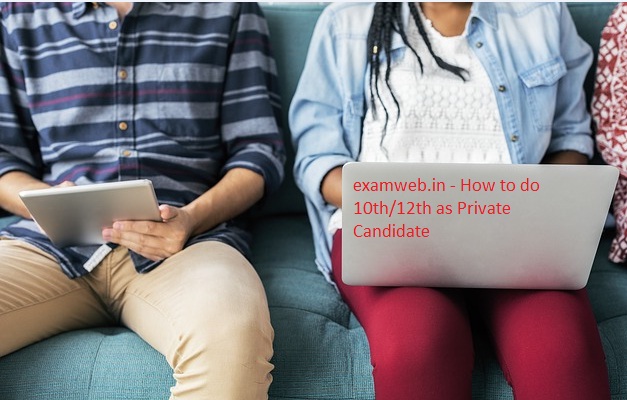 In this article, we shall try to give the answers of the following questions -
Q. 1. From where can I do my 10th/12th Open/as a Private Student ?
Q. 2. Name the boards that provide me the opportunity for doing 10th/12th as a Private Candidate ?
Q. 3. When can I fill the Application Forms for 10th/12th Open ?
Q. 4. Name some Open Boards that offer 10th/12th ?
Q. 5. How to apply for 10th/12th Open Board ?
Q. 6. Who is eligible for Secondary / Sr Secondary Open Board
Q. 7. Can I do 10th/12th as a private student ?
Open Board of Schools -
There are open boards in almost all the states of India. Even at the centre level there is a board. These boards provide tremendous opportunity to those candidates who can't continue their studies as regular students.
Name of the Open Boards for Private Schooling-
National Institute of Open Schooling  ( NIOS)
Haryana Open School ( HOS)
Open School ( PSEB)
Uttar Pradesh State Open School ( UPSOS)
Kerala State Open School ( KSOS)
Bihar Board of Open Schooling and Examination ( BBOSE)
Karnataka Open School
Rajasthan State Open School ( RSOS)
Tamil Nadu Council Open Schooling
The West Bengal Council of Rabindra Open Schooling ( TWBCROS) etc
How to get the official information about these boards ?
Just type these names of the concerned state open schools at Google search. The page shall take you to the related website. Click there and get complete information.
Important Dates for 10th/12th Registration/Admission in Open Schools -
The registration begins generally from May/ June every year. The last date is in December / January. Some boards allow the students to get registration even one month before the exam. However, for that they charge late fee. In a way the registration for these classes remain for 7 to 8 months during one academic session.
Who can apply as Private Candidates / for Open Schools ?
For 10th class - The candidates who have done 8th class and have one or more years' gap after it.
For 12th class - Those who have one or more years' gap after 10th class are eligible for 12th as private candidates.
Fail Candidates - Those who have failed in 10th or 12th classes can apply again for these classes as Private candidates. Failing students of 9th and 11th classes are also eligible to apply as private candidates.
Age Criteria - There is no age criteria for these classes as Private Candidates.
How to apply for 10th /12th Open Board ?
For that you need to go to the official website of the concerned board when the registration is open. There you can register yourself as a new student. Pay the fee as is mentioned.
We hope this article will help you.
For any query, write to us in the comment box ahead.