Check Career- Making options after 12th classes
All the students are involved in Board Exams these days irrespective of the fact as to which Board they belong to. It means all the Boards Central and State Boards are holding exams for millions of 10+2 students from Science, Commerce and Arts.
Exams are going on very smoothly and they will be finished in the one month duration. So after exam what ? Enjoy and lot of fun. Yep for many that would be the time for fun and frolic with their friends and family members. But think if it is really a time for fun or making some serious deliberations – time to chalk out plans for future, to choose good course after 12th.
Yeah this is a very crucial time for the students as decision taken this time will have impact on the coming life. So we are forced to pen down this write- up to inform you about some of the best options the students of 12th Non-medical, Medical, Commerce and Arts can have after the Exams Results are revealed. So check the courses you can do after 10+2.
12th Class based Courses – Science, Commerce and Arts based courses –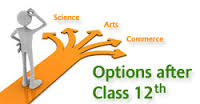 We have selected some of the courses you can do after your 12th class. These courses are in great demand these days. We hope they will be beneficial for you in the long run of life. There are three streams after 10th class which are Arts, Commerce and Science ( Medical/ Non-Medical)
Courses after 12th Non-medical –
After 12th Non-medical, the students can go for B.Tech, B.Sc., B.Sc. Honors, Diploma in Engineering, B.Arch., D.Pharmacy., B.Pharmacy, Aviation, B.C.A and other courses related with Arts and Commerce.
12th Medical Based Courses –
B.Sc., B.Sc. honors, M.B.B.S., B.A.M.S, B.A.D.S, D.Pharmacy, B.Pharmacy., Veterinary Course, and other Courses which Arts and Commerce Students can pursue.
Courses for 12th Commerce Students –
The options for 10+2 Commerce Students are – CA , CS, B.Com., B.B.A, LLB, and other Arts Related Courses.
12th Arts Based Courses –
The courses are – BA, B.B.A, B.C.A, Diplomas in Journalism, Computer, Hotel Management, Air Host or Hostess etc.
Common Courses/ Preparations After 12th ( Arts/ Commerce/ Science ) –
Law ( Judicial Services ), MBA, Teachers, Hotel Management Courses, Preparations for Banking/ SSC/ Railways, IAS, PCS, HCS etc.
After Graduation in the concerned subjects more options opened for good career in all the subjects. The candidates may go for the competitive exams held by S.S.C, I.B.P.S, U.P.S.C. and other boards and commissions. So whatever course you are doing must do properly and with full dedication. Future is yours.
Cosmetology / Beautician Courses
Our Advice – Keep searching more courses on regular basis when you are in the 12th class. For that read newspapers daily. Have an access to employment news and career magazines. Keep searching which job/ career is trending.
Know your taste and potential. Some times tastes and potentials don't match. There should be proper balance. For example : IF you have the taste for CA , but you have potential for a clerical job or you are just able to clear your 12th exam, you will not be able to materialize your dream. So know what you are and what you can do before start any venture.
We have some a lot of youngsters taking difficult path and leaving it in the lurch. That is more painful.
Check courses after 10th class