Board Exams have begun in the country. Now the students have focused their mind on their preparation. But they are also focusing on the career option as to what career is best for them after 10+2. Besides engineering, medical lines, Hotel Management Course is a very good option.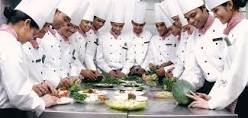 The admission to very good institutes depends on the performance in the Entrance Tests. In this blog we are apprising of the various entrance tests, eligibility criteria and scope of the Hotel Management Courses.
Hotel Management Course Eligibility Criteria –
The Premiere Institutes hold Entrance Exams for various courses in Hotel Management. The candidates having 10+2 in any of the streams with 60% marks are eligible for the Hotel Management Entrance Tests.
Syllabus and Criteria for the Hotel Management Entrance Exams –
The Entrance Test consists of English Language and Comprehension, Numerical Ability, Reasoning, General Knowledge and Current Affairs, Science Aptitude and Service Aptitude. It is a 120 minutes' test. The Written Exam is followed by GD and Interview.
Have a look at various Prestigious Entrance Tests for Admission to Hotel Management Courses –
NCHMCT JEE –
Full form of this test is National Council of Hotel Management and Catering Technology Joint Entrance Examination. This is a qualifying exam for admission to B.Sc Programme in Hospitality and Hotel Administration.
This course is jointly offered by NCHMCT and IGNOU. NCHMC is inviting the Applications for this course . The Deadline is 11th April, 2016.
Date of Entrance Exam is – April 30, 2016.
Official Website – www.nchm.nic.in
Hotel Management Course Career
The Oberoi Step –
Full form of Step is – Systematic Training and Education Programme. There is no Entrance Test to get admission to the Oberoi School of Hotel Management. The candidates get the admission to Step Programmes on the basis of GD and Personal Interview.
This is a 3 year programme. After the completion of this degree, A Bachelor of Tourism Studies degree is awarded by IGNOU. For more details visit the following website – www.oberoigroup.com.
Institute of Hotel Management Aurangabad –
This institute is affiliated to Taj Hotels and Resorts Ltd. The entrance test takes place for giving admission to 4 year programmes called BA Honors in Hotel Management and BA Honors in Culinary Arts which awarded by the University of Huddersfield, UK. To be eligible for this entrance test,the candidates must be 10+2.
Official Website – www.ihmaurangabad.ac.in
All India MAHE Bachelor's Admission Test –
This test takes place for admission to the Bachelor in Hotel Management Programme at the Welcomegroup Graduate School of Hotel Administration in Manipur  and Karnataka. There is the Written Exam. After that there is GD and Interview.
Website – www.manipal.edu/wgsha.html
Scope of Management Courses –
These days with Hotel Industry booming, there is a flourishing career in it. Candidates possessing the degree or diploma in Hotel Management are in great demand. Starting packages are nice and with a few years' experience, you can rock.