This daughter of Haryana has created history by becoming the first woman mountaineer of India to scale Mt Everest from both Nepal and China sides. In this way, Anita Kundu has become a great source of inspiration for the girls of not only of Haryana but of whole India. Chief Minister ML Khattar has also congratulated her for this marvelous feat.  Read his comments :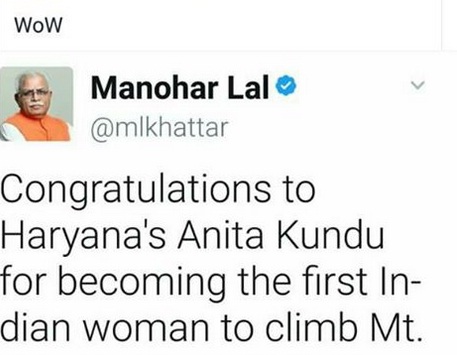 Randeep Singh Surjewala has also written on his Facebook Account –
Haryana's girls make India proud again. Anita Kundu becomes first Indian woman to climb Mount Everest both from Nepal ( 2013) and China ( 2017) sides.
Some Facts about Kundu's Life from this educational website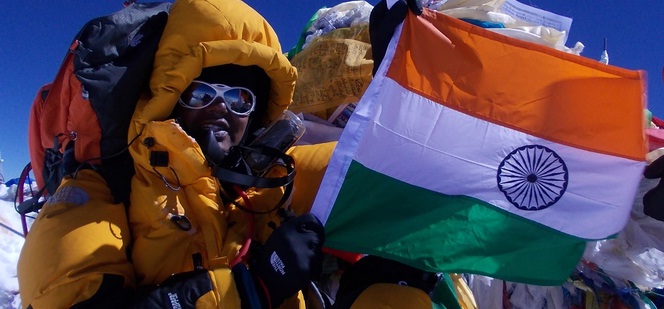 Anita Kundu who is now 29 years of age is working as a Sub Inspector in the Haryana Police Department. She hails from village Faridpur, Hisar ( Haryana ). There were total 8 mountaineers for this most difficult mountaineering expedition. Out of these eight, two mountaineers ( one from Australia and another from India) had to lose their lives.
Kundu hoisted the Indian Tricolor at the peak at 7:15 am.
Moments of Great Achievement –
Anita climbed Nanga Parbat ( Nanga Peak) in 2010.
Then in 2011, she scaled Satopanth Peak successfully.
Then came the day when she created history. She scaled Mt Everest from the Nepal Side on 18th of May 2013.
But she was not satisfied with this achievement. She made the unsuccessful endeavor to climb the same mountain from China side in 2015. This effort was foiled by the earthquake.
However, nothing can prevent a person of self-determination and passion. She made another attempt on 21st of May 2017 and this time nothing prevented her to hoist national flag at the Mt Everest peak and make golden record.
We have prepared some questions on her life. These questions may be helpful for the various examinees from Haryana.
Questions related with Anita Kundu's life –
Q. Which village does Anita Kundu belong to ?
Answer – Faridpur ( Hisar )
Q. When did she climb the Mt Everest from Nepal side ?
Answer – on 18/05/2013.
Q. What had caused hurdle in her first attempt to scale Everest from China side in 2015 ?
Answer – Earthquake
Q. What did she make history by climbing this highest from the China side on 21st of May 2017 ?
Answer – She became first Indian woman to do this feat.
We shall update the post with more content related with Anita Kundu's life soon. Thanks for your visiting us. Give your feedback related with this post in the comment box below.