Chhattisgarh is one of the new states of India. Its literal meaning is 36 Forts ( छतीस गढ़ ). Its population is 2 crore 80 lac ( 28 million). With this big population, Chhattisgarh is the 17th most populated state of India.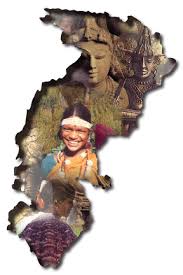 It's legislative capital is Naya Raipur whereas judiciary capital is Bilaspur. The state has 27 Districts. The language of the state is Chhattisgarhi which is a dialect of Hindi. It's official website is chhattisgarh.nic.in.
Now we are publishing some General Knowledge/ Current Affairs related questions on this page. We shall keep updating this page on regular basis. Moreover, if the readers have any related material regarding the state, they can share it with us via comment box below.  These questions can be very helpful in the upcoming state exams.
CG General Knowledge and Current Affairs
Q. When did the state come into being ?
Answer – 1st of Nov 2000
Q. Which is the largest city of Chhattisgarh ?
Answer – Raipur
Q. Who are the present Governor and Chief Minister ?
Answer – Balramji Das Tandon and Raman Singh ( BJP) respectively.
General Knowledge/ Current Affairs ( India )
Q. How many legislative assembly seats does the state have ?
Answer – 90 seats with Unicameral Form
Q. No of Lok Sabha seats in CG …
Answer – 11
Q. Name of the High Court and where is it situated ?
Chhattisgarh GK & Current Affairs
Answer – Chhattisgarh High Court, Bilaspur
Q. What is the total area of CG ?
Answer – 135198.5 sq kms
Q. What is the population density of the state ?
Answer – 210 sq km
Q. Who is the Chief Justice of CG High Court ?
Answer – Justice Deepak Gupta
Q. Literacy rate and rank in India ..
Answer – 71.04 % and rank is 23rd
Q. What is the state song of CG ?
Answer – arpa pairi ke dhaar
Q. What are the state animal and bird ?
Answer – Van Bhainsa ( Wild Buffalo ) and Pahari Myna ( Hill Myna )
Q. State Tree is …
Answer – Sal or Sarai
Q. Name the state River …
Answer – Mahanadi
Q. For which Chhattisgarhi film had Lata Mangeshkar sung a song ?
Answer – Bhakla of Dhriti pati sarkar
Q. What do we call Theatre in Chhattisgarhi ?
Answer – Gammat
Q. What is the film industry of the state known as ?
Answer – Chhollywood
For more Chhattisgarh GK/ CA related questions keep coming.