Geoffrey Chaucer is a big name in the field of English Literature. He is regarded as the father of English Poetry. He is also the first of great moderns. Chaucer made valuable contributions to English Poetry and his debt is so great that it can't be repaid by anybody.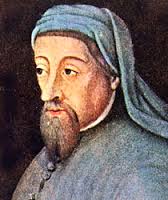 Chaucer was born in 1343 in London ( UK). He is acclaimed as the greatest English Poet of Middle Ages. His most famous works are – Troilus and Criseyde, The Nun's Priest's Tale, The Canterbury Tales etc. He died on 25th of October 1400. Read some of this important Literary Works and Important Quotes from below –
Chaucer and his Literary Works at one glance –
A Ballad of Gentleness
Truth
A Ballad of Complaint
Rondel of Merciless Beauty
Fortune
Gentilesse
Chaucer's Words to his Scriven
Chaucer's important Works –  English Quotes

The Book of the Duchess – His first major work. This is an elegy.
Anelida and Arcite and The House of Fame – Early works of Chaucer
The Parliament of Fouls
The Legend of Good Women
Troilus and Criseyde
The Canterbury Tales – This is regarded the best piece of Chaucer.
Chaucer had also invented Seven line stanza known as rhyme royal. In Troilus and Criseyde, he has used Rhyme Royal. He had introduced heroic couplet in Prologue to the Canterbury Tales.
The Boethius and Astrolabe are his famous Prose Works.
Some Important Quotes of Geoffrey Chaucer –
People can die of mere imagination.

The guilty think all talk is of themselves

The life so short, the crafts too long to learn.

By nature, men loved newfangledness.

Women desire six things –

They want their husbands to be brave, wise, rich, generous, obedient to wife and lively in bed.

Love is blind.

The greatest scholars are not usually the wisest persons.

Ans she was fair as is the rose in May.

We know little of the things we pray.

What is better than Wisdom ?

Woman.

What is better than a good Woman ?

Nothing.

Patience is a conquering virtue.
Keep visiting us for more updates on Geoffrey Chaucer, an English Poet.