Complete info about Haryana Board D.Ed/JBT Exams/ Admit Card/ Roll No. / Result / Excursion/ Sports-meet/Internship Programme schedule 2022-2023

Haryana Board of School Education ( HBSE/ D.Ed ) has now released the yearly ( annual ) calendar. In this regard, the board has issued a letter to the concerned institutions.
Update July 2022 –
Revised date- sheet ( theory papers ) for D.EI.ED 1st Admission year – 2019-2020-2021 ( Re-appear and Fresh ) Exam July 2022 may take place from 26th of July 2022. The exam may be in morning session ( 09: 30 a.m. For the complete date-sheet click here.
Latest 2022– HBSE JBT का परीक्षा परिणाम जल्द ही Official Website पर आएगा । 
Update 2022 –
HBSE ( BSEH ) may conduct D.EI.ED/JBT exam from 15th Feb 2022. D.EI.ED/ JBT test may end on 25th Feb 2022. The practical exam for D.EI.ED/ JBT may commence on 09th Feb 2022 and culminate on 14th Feb 2022. For the D.EI.ED/ JBT exam admit card/ roll no., result, yearly calendar etc., visit the official website i.e. https://bseh.org.in/

D.EI.ED/ JBT के परीक्षा परिणाम, एडमिट कार्ड/ रोल नंबर के लिए बोर्ड की ओफ्फिशयल वेबसाइट पर नियमित रूप से आते रहें जो कि-  https://bseh.org.in/
The JBT candidates have to take primary classes.
Date of Issuance of JBT Annual Calendar for D.El.Ed- 10th of August 2018
Letter No. – 6582/ Educational
D.LEd is a diploma in education. It is a JBT course. For the primary level jobs in govt schools in Haryana Schools, it is imperative for the students to do it.The duration of this course is 2 years.
Read complete information about Duration of D.El.Ed from here.
The qualification for doing this course is 10+2. Streams don't matter. Now there are two sessions are on – 2018-2020 and 2017-2019. The first one is for the freshers and the latter one is for the old students. As we have informed earlier, the board has declared the scheduled of exams for both the sessions. So the information is very important for the students to start preparation right now.
Details regarding 2017-2019 and 2018-2020 D.Ed Exams / Excursion/ Sports-meet/Internship Programme schedule –
For the first and second years for 2018-2019 and 2019-2020 Session Schedule from 11th of August 2018 to 25th of July 2019 will be available on this page.
The excursion time is for one month in the month of November.
For the students, the sports-meet will be held in the month of February.
Exam Timings for J.B.T ( D.Ed ) Annual Exams
For the first year for the session 2018-2020/ 2017-2019 ( Practical and Written Exams ) –
From 1st of July 2019 to 8th of July 2019
9th of July 2019 to 29th of July 2019
Gap in the session –
30th July 2019 to 10th of August 2019
Note – There shall be a modification in the schedule in the admission year NCERT Haryana, Gurgaon for the first year.
Check D.Ed / J.Ed Result from here
Read the published calendar for JBT/ D.Ed –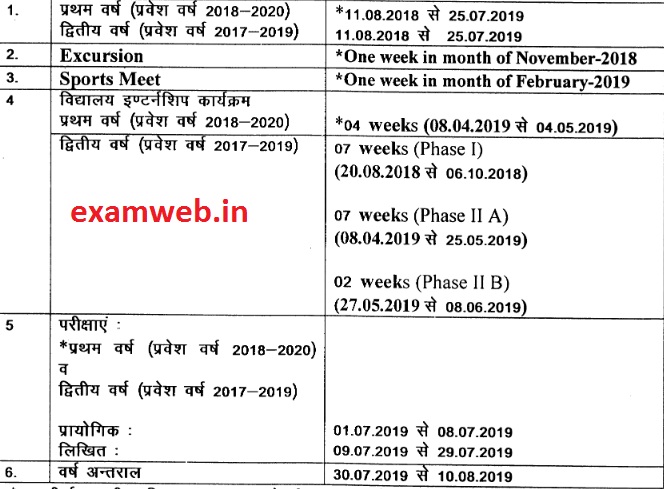 If you have more information regarding D.Ed/ J.BT/ D.El/ Ed schedule for the next session. please provide us. Thanks for your visit.
HOS 2022 Result is out – Check here.
The official website –  https://bseh.org.in/