Exam time - time of strain and continuous hard work. Hard work round the clock without rest and entertainment. Quite boring, but can't leave studies. Parents' emotional burden for getting better marks because Tinku had passed with open merit in his board exam. You will have to outshine Tinku.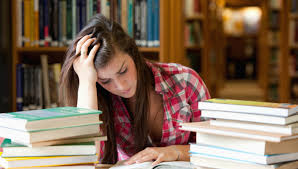 This is the matter of prestigious issue. Teachers want to you get better marks as they have to present their own reports to the principals or Govt ( in case they are govt employees) or management ( private school teachers).
If the result is not good, they will be held accountable for the poor results whether the students were interested or not, whether they attended classes or not, the whole responsibility shall be of teachers.
Even the increment of the private teachers will be withheld with the immediate effect. So the teachers pass this pressure on to the students. Now the scapegoats are  the students. So we are providing some tips that can relieve them from this tremendous pressure.
Fix time for studies -
Don't study by fits and starts. Fix your time and study as per that. Divide your time between studies and rest. Rest is also must during studies.
Don't be crazy about marks -
Don't put yourself in to blind competition of marks. Marks are necessary but they are not everything. Your knowledge is more important.
Take light walks in the midst -
In the midst of your studies take light walks. It will help you relaxed your mind and keep you healthy.
Don't consume tea or coffee, take healthy diet -
They are like intoxicants. Don't use them. Rather take milk or juice for energy. Drink much water. Take salad in your diet.
Do more and more written work -
Whatever you prepare must be written down. Writing makes you perfect, always remember this axiom. It will help your avoiding your spelling and grammatical mistakes and you shall be able to keep the matter in your mind for longer.
Time for revision -
This is the for revision. Don't prepare anything new. It may disturb your preparation.
Listen to songs and good jokes. Such things will keep your mind refresh.
Read the topic - How to get above 90% marks in Board Exams?