Read Biography and Important Questions/ facts about Kalpana Chawla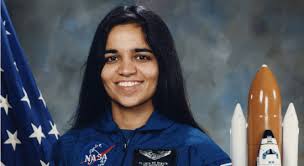 Kalpana Chawla is a great daughter of not only Haryana but of whole of India. She is alive even after her death. She has registered her name in the history of the country in golden words.She was born on 17th of March 1962 at Karnal in India. But officially the birth date is July 1, 1961. It was the middle class family. Her father is Mr Banarsi Lal. He is the owner of a tire factory. Her mother Sunyogita is a house wife. She has one brother whose name is Sunjay. It is a pure vegetarian Hindu family.
Kalpana was tomboyish in her childhood. Like other boys, she loved to play cricket and had learnt karate. She would rarely do any household chores like other girls. She was quite extrovert. Kalpana remained always in the first three positions in the class. She loved aeroplanes, sky, stars and also flight. She was fond of flying.
Chawla completed her graduation from Tagore School at Karnal in 1976. After that she did her B.Sc in Aeronautical Engineering from Punjab Engineering College in 1982. For higher studies, she went to the USA. Kalpana completed M.Sc in Aerospace Engineering from University of Texas in 1984.
Then finished her PhD in Aerospace Engineering from University of Colorado in 1988. After that she got the opportunity to work at NASA Ames Research Centre as a space scientist in 1988.
She was selected by NASA in 1994. In 1995, she joined Johnson Space Centre as an astronaut candidate in the 15th Group of astronauts. Then in Nov 1996, she got her first mission as  a specialist.
In 2000, Chawla got the chance for another voyage into space as a mission specialist on STS – 107. After delays many times, the programme took off in 2003. It was the successful mission.
On the morning of Feb 1, 2003, the space was returning to earth. Everything  was fine. Suddenly 16 minutes before landing, the Space Shuttle broke up in the air on its re-entry into the Earth's atmosphere. The shuttle got destroyed and the entire crew of seven got killed.
Important Questions / Facts related with Kalpana Chawla's life and Career.
If you have read the details given above properly, you must be ready to give the answers of some of the questions below. There will be other questions and facts which you may not find in the information provided above. These questions may be quite helpful for the students of various exams by SSC/ HSSC etc. These questions may be the part of Quiz Contests in the schools.
Questions/ Facts
Q. 1 When was Kalpana Chawla born ?
Answers – 1st of July 1961
Q. How many members were the part of the crew that met the tragic end ?
Answer – Seven ( including Kalpana  Chawla )
Q. Name all the crew members who were the part of that last expedition ?
Answer – 1. Pilot William C. McCool 2. Commander Rick D Husband 3. Payload Commander Micheal P. Anderson 4. Payload Specialist Ilan Ramon ( He was the first Israeli Astronaut ) 5. Mission Specialist David M Brown 6. Mission Specialist Laurel B Clark 7. Kalpana Chawla
Q. Who is the first woman Space Traveller of India ?
Answer – Kalpana Chawla
Q. Where did she do B.Sc in Aeronautical Engineering ?
Answer – Punjab Engineering College ( PEC)
Q. What is the full form of NASA ?
Answer – National Aeronautics and Space Administration
Q. She was the part of two missions. How much time she spent in the space in both the missions ?
Answer – 30 days, 14 hours and 54 minutes
Q. What is the name of Kalpana's spouse ( husband ) ?
Answer – Jean Pierre Harrison
Q. When did Kalpana Chawla die ?
Answer – 1st Feb 2003
Famous Quotation by Kalpana Chawla – ( She had uttered these words after her first launch )
When you look at the stars and galaxy, you feel that you are not just from any particular piece of land, but from the solar system.
For More Questions on GK click here.