Mother Teresa ( Brief/ Short Biography )- A great saint who gave her entire life for the welfare of the poor not only in India but abroad also. Owing to her devotions and services for the suffering humanity and impoverished people, people call her mother.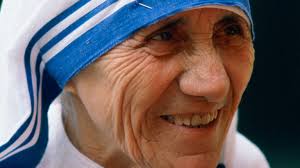 She is the light that showed path to the miserable lots, a ray of hope for the suffering and the one who never got tired when it came to the service of humanity. Viewing her services for the society, the Christian Society canonized her as a Saint.
Mother Teresa was born on 26th of August 1910 in a farmer family in Skopje. Her childhood name was Agnes. Her parents were highly religious. So she received religious nature from her parents. She used to go to Church with her parents when she was merely a small child.
People from her neighborhood would come to India for sermons and social- service purpose. Seeing them she was also encouraged to come to India and to do the same. Missionaries had to follow the rules of organization before going on any of the Missionary trips.
Agnes also followed rules. But when she visited Calcutta ( Now Kolkata), she was so much perturbed by the miserable conditions of the poor, sufferings of the handicaps and patients wherever who would go that she decided to leave the organization for which she was working and make her own Service Organization.
The motive was to do more and more service of such people. She believed that the true worship of God is the service of mankind. So far she was attached with the service related with education. So she didn't have any knowledge of medical treatment.
As a result she had to take training from America Medical Missionary Sisters situated in Patna. After receiving the training she returned to Calcutta. For the purpose she required the space and found a hut to start her mission. She started by educating the poor children. Then she expanded her area of service from education to serving the sick and poor people.
Visit examweb.in for the biography of the Great Personalities of India and World
In 1950 she started doing her work in Calcutta. She was accompanied by a few nurses. There was the problem of space in Calcutta. They got a room in Kali Temple. She named her philanthropic organization " Nirmal Hriday". Some people including the priest of the temple opposed saying that they were promoting Christianity. Even they lodged their complaint at the Municipal Committee.
But when the officials went to see the things, they found nothing objectionable. Rather they found the mother was serving the sick people there. Even they rebuked the complainants. Later when the same priest fell ill, Mother Teresa approached him and served him.Soon he got fine and said" I have been worshiping of Goddess for many years but I have seen mother today."
His organization flourished with the passage of time. The no of centres increased to 160 where the patients suffering from leprosy, TB and other fatal diseases were cured.
Mother Teresa opened centres at different places for orphan children. Even today a no of Mother Teresa Service Centres are active. Indian govt provided money and honor to this Goddess of the poor. Recognizing her service, Indian Govt bestowed upon her Padam Shree in 1962 and later she was honored with the world's biggest Nobel Award in 1979.
Other National and International Awards Mother Teresa received –
Good Samaritan Award
Kennedy International Award
Rajiv Gandhi Harmony Award
Peace Award etc
In reality Mother Teresa didn't belong to one country, she had cosmic existence. People would lovingly call her mother. She died on 5th of Sept 1997 due to cardiac arrest. She belonged to only one caste – mankind, she had only one religion – mankind, she lived for mankind and died for mankind.
Mother got sainthood on 4th of Sept 2016 –
Vatican City ( Rome) :-  Pope Francis proclaimed Mother Teresa a saint. He hailed her as the personification of maternal love and potential advocate for the poor. The mother was canonized in the presence of around 1 lac pilgrims at Vatican City. The pilgrims included 13 heads of state and hundreds of sari-clad nuns from the Mother's order, the Missionaries of Charity. There was also the Royal presence shown by Queen Sofia from Spain. Pope spoke in Latin when he declared her the saint. Read the words of Pope from below –
blessed Teresa of Calcutta to a Saint ….. decreeing that she is to be venerated as such by the whole Church.
Another Quotation of Pope Francis on the same occasion-
We may have some difficulty in calling her Saint Teresa. Her holiness is so near to us, so tender and fruitful that we continue to spontaneously call her Mother.