The work on chalking out the New Education Policy is going on with a big momentum and it has got more pace when HRD Minister Smriti Irani met various Bodies of RSS to discuss some of its points and also the recruitment of the people at the important posts which are lying vacant in various institutions and universities in the country.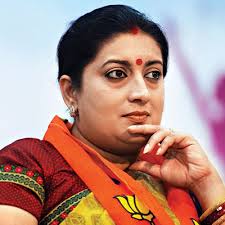 In this around 4-hour meeting the points regarding the reformation in the Education Policy were discussed along with these recruitment. There was the discussion of including syllabus focusing on Indian Rich Culture and tradition with utmost importance to the students' vernacular besides giving life to the classic languages such as Sanskrit, Arabic, Persian, Greek, Latin etc.
This suggestion was made by RSS affiliated body Bhartiya Shikshan Mandal which had prepared an outline of the draft recently. It will be implemented in the classes from 9th to 12th.
New Education Policy in  India
It was also discussed that after 8 years of Primary Education, the students must compulsorily be  given some Vocational course for the next four years so that the students after leaving the studies in midst can be independent. This suggestion was the part of Draft called " Bhartiya Education Outline ".
There were many representatives of various RSS bodies and other institutions. There were many suggestion made by them. Besides there was the discussion of including Vedic Maths and the implementation of Three-language formula effectively.
The main thrust was to instill among the tiny tots and growing minds the feeling on nationalism and good values. It is well-known that the HRD Minister is engaged in this Herculean Task of preparing this New Education Policy for which she is taking advice from many quarters. Here RSS seems to have more influence.
But one thing is very clear here that there is the need of complete change in the education system. Hence only making policies won't do much, the Hon'ble Minister also ensure their expeditious implementation.