Rajasthan Subordinate and Ministerial Services Selection Board ( RSMSSB) is an constitutional body of Rajasthan Govt for Recruitment Related Functions. The Board keeps inviting applications for non-gazetted posts. Tens of thousands of candidates get jobs through RSMSSB. The aspirants can get all information related with Jobs by RSMSSB from this page. From below you will come to know Exam Date, Roll No./ Admit Card etc.
Update 2021 –
There is the job notification for Village Development Officer ( 3896 posts ). The last date of applying is Sept/ Oct 2021. RSMSSB job notification for Computer ( 250 posts ) . The last date of applying is 07th Oct 2021. There is job notification for Assistant Fire Officer and Fireman ( 629 posts ). The end date of applying is 16th Sept 2021. For the Exam Date, Admit Card/ Roll No. , we shall update this post.

We shall keep updating the post for the latest Recruitment, Eligibility, No of Posts, Selection Procedure and Important Downloading Links. Therefore, you must bookmark this page or get our subscription from the Home Page. By doing so, you shall start getting our e-mails on each and every topic.
This time the Selection Board has invited applications for the Four Hundred and Two Posts of Junior Instructors. You can check the category-wise/post-wise details from below. The Online Applications have been invited for temporary posts.
Old Stuff
Check Posts Details –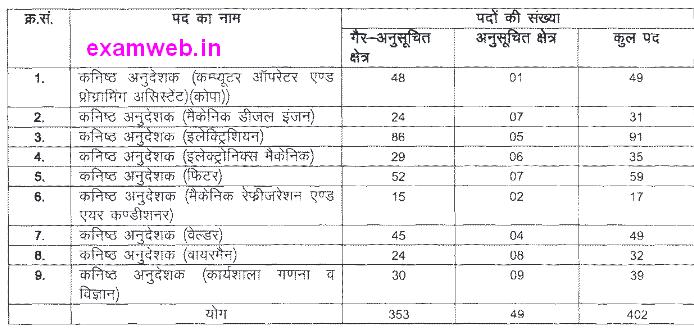 The candidates shall use the following link for filling online applications. If the candidates make some error in filling Jr Instructors Posts, their forms shall stand cancelled automatically.
Before filling RSMSSB Application Forms, the aspirants need to go through all details carefully. Rules and Regulations regarding Reservation shall be as per Rajasthan State Govt Rule.
RSMSSB Recruitment Online Process / Online Application / Exam Date/ Admit Card/ Roll No. 2021-2022-2023

The candidates can fill online applications at e-mitra kiosk/ jan suvidha kendra. It is necessary to make e-mail Id before applying. Again need to remember E-mail Id and Password. The operator of either of the said services shall click at Recruitment Link at www.ssorajasthan.gov.in.
Here when you click on Apply Online, Login Page shall open. It will ask for Email ID and Password. However, the candidates who are not registered earlier, will have to get them registered anew. The Next Process shall start later. Check the Preview before submitting your application. If you find any error, ask e-mitra kiosk operator to correct them.
You shall have to pay fee as per your category. The aspirants will have to pay Rs 30/-. The Exam fee is Rs 650/- for General Category/ Creamy Layer/ OBC whereas for BC/OBC Non-Creamy layer it is Rs. 450/-. For SC and ST candidates, RSMSSB Jr Instructors Exam Fee is Rs 350.
We again suggest you to read the complete Advertisement before being the part of Online Process. Go to e-mitra kiosk/ jan suvidha kendra for getting your applications filled.
Official Website for RSMSSB Recruitment – https://rsmssb.rajasthan.gov.in

For more jobs and other info. like Exam Date/ Admit Card/ Roll No. etc. in Rajasthan ( RSMSSB ) 2021-2022-2023 please keep visiting this website. Thanks.