Haryana Govt's move to include the Gita to the school curriculum has triggered the debate among the religious circles as well as those of the intellectuals. The moot question is whether the religious book like the Gita should be the part of the syllabi in schools in Haryana or any other part of the country where students of all religions get education in the secular environment.
Indian constitution has rendered India a secular state where people are free to profess any of the religions of their liking without any pressure from any corner. So if the Haryana Govt is trying to impose this book on the people of other religions, is it not the infringement of the right of theirs?
First Know something about the Gita –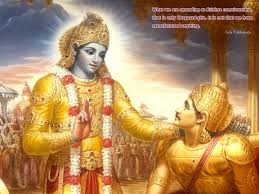 Relevance of the Gita in Today's World
The Gita written by Lord Krishana is a great scripture of the Hindus. Due to its philosophies and teachings, the book is still relevant in the modern world or I must confess it is more meaningful now than before because the book carries the solution of the most complex problems of today.
The book tries to console the people who are facing the most sombre issues of death and loss in life. It seems that Arjuna is none other than a modern man surrounded by various day-to-day problems and dilemmas.
The teachings contained in this great scripture seems to have no religious bias as the book is certainly a panacea of all sufferings of all people of any religion or any age or any country.
Is the move Correct ?
Despite all these good things the book teach and give, it is unfair to impose the book on the mentality of the people of other religions. The argument may be that there are good things in all the scriptures of other religions also. So why only the Gita ? It will certainly send the wrong message that the majority is forcing the minorities to adopt their own religious tenets.
Solution –
If the Haryana govt is serious in cultivating the moral values among the younger citizens of the country or the state or if it wants that the students start behaving under moral policing it must think to bring out all the good points of all the religious books of all the religions in one book and then students must get it.
Instead of thrusting it on the people, the Govt must try to convince them. Social harmony is more important than anything else.
In this way they will be morally trained and learn to respect other religions also. In this way a great problem of communalism will be wiped out.
Thanks for visiting us.