Board Exams certainly cause mortification among the students especially those who are taking it for the first time. Yeah, we are talking about the students of 10th class. These students face the board exams for the first time in their life.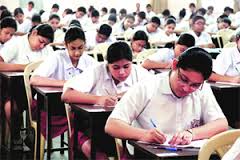 So for them these exams are full of suspense, anxiety and curiosity. Suspense – what type of questions be asked, anxiety- what shall be the performance and curiosity – the outcome of that performance.
All the students, without any exception, wish to perform better to get better marks. So they have one question to the their teachers, parents and themselves – How to get better marks in 10th Board exams?
No doubt, board exams are the bug bear not only for the students, but for their teachers and parents as well. So how to get away with that bug-bear ? What are the tips/ tricks that can play miracle in the exams ? Is their any substitution to hard word? Any mantra that can do wonder ? Here we are providing the answers to all these questions via this article of ours.
Golden Tips of getting Good Marks in 10th Board Exams –
1. Finish your syllabus off well in time –
This is the first rule for giving better performance in any of the exams. The attention of the teachers and the taught must be on completing it as soon as possible. If you are a private student, then do it for yourself. You can't take the second step unless you have completed it.
2. Then Prepare it –
i – Division of Syllabus –
Having finished it off, you will have to focus on the preparation of your syllabus. For that follow the prescribed syllabus by the concerned board. Divide it in to units and chapters. Give priority to the contents which you think are important from examinations' point of view.
ii- Select the important material –
It is very important to select the important material. You have to be choosy as you can't do the whole syllabus with perfection. By the way, you are not a nerd. For important material check the last years' papers which you can get online or at the official website or from the Exam Notes available in the market.
Don't hesitate to approach your teachers for the same. They will certainly tell you about the important stuff. Attend classes regularly and keep your eyes and ears activate and note down the questions which your teachers have told you very-very important.
iii- Time Division –
Time management in must in very work. Success to a great extent depends upon it. You must also divide your time subject wise. Be prudential in doing so. Give more time to technical subjects. But the subjects which are good from numbers' point of view must also get the same amount of attention. It is seen that the students give less time to so-called easy subjects and consequently get fewer marks in them. Ironically, in important subjects ( technical subjects) also they don't perform well. As as result, the overall percentage is down.
3. Solve Matric Sample Papers –
Do it right now. Solve Practice Papers/ Sample Papers on regular basis. They will serve all the purposes. First, you will get some important material in them. Second, you shall be able to time your exam and hence ultimately enhance your confidence.
4. Take home exams seriously –
All the schools conduct home exams two or three times a year. The general tendency of the students is that they don't take them seriously, which is quite wrong. These tests give you a best preparation opportunity. You can evaluate yourselves and your teachers can evaluate you. And if there is any deficiency in the preparation can be compensated in the remaining time. So take these home exams as seriously as you do with the board exams.
5. Make notes of the Good Questions –
You must do it to ensure good marks. Make notes of the important questions. Not just make good notes – make best notes. Take the help of your teachers here. Collect material from the good books, good websites and other sources.
Must Read – How to Secure above 90% marks in 12th Board Classes ?