Important Questions on Tamil Nadu GK and Current Affairs
Tamil Nadu is one of the southern states of India. The state boasts of being the 11th largest state of the country. The capital of Tamil Nadu is Chennai which is the ancient name of Madras. Chennai is also the largest city of this southern state. UT Puducherry, states like Kerala, Karnataka and Andhra Pradesh share common boundaries with it.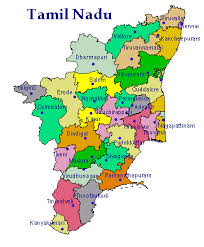 The state has the motto which is – Truth alone Triumphs. On this page we are trying to give maximum information regarding Tamil Nadu that will certainly benefit the students / candidates preparing for the Competitive exams/ Recruitment Exams by TNPSC or by other organizations of the state.
Questions related with Tamil Nadu General Knowledge and Current Affairs –
Q. 1. When did Tamil Nadu come in to existence ?
Ans – 26th of January 1950
Q. 2. Who is the Governor of the state ?
Ans – Konijeti Rosaiah
Q. 3. Name of the Chief Minister ?
Ans – J Jayalalithaa. She belongs to AIADMK
Q. 4. What is the nature of Tamil Nadu Legislature ?
Ans – Unicameral
Q. 5. How many members are there in TN State Assembly ?
Ans – 234
Q. 6. How much area does TN cover ?
Ans – 130,058 sq km
Q. 7. Population of Tamil Nadu as per 2011 census ?
Ans – 72,147,030
Q. 8. What is the rank of the state as far as population is concerned ?
Ans – Sixth
Q. 9. What is the Anthem of the state ?
Ans – Invocation to Tamil Mother
Q. 10. What is the literacy rate of the state ?
Ans – 80.33%
Q. 11. What was its name before Tamil Nadu ?
Ans – Madras State
Learn Tamil Nadu General Knowledge Questions
Q. 12. When did the state get its present name ?
Ans – 14th of January 1969.
Q. 13. What is the state dance ?
Ans – Bharathanattiyam
Q. 14. Name the state bird ?
Ans – Emerald Dove
Q. 15. State animal of Tamil Nadu ?
Ans – Nilgiri Tahr
Q. 16. What are the state flower and tree ?
Ans – Gloriosa Lily and Palm Tree.
Q. 17 State Sport is-
Ans – Kabaddi
Please visit us for more and more Tamil Nadu GK and Current Affairs Questions.