Learn Delhi GK and Current Affairs Questions
Delhi is the capital of India. Also it is one of the biggest cities of the country. This city has many layers of golden history. History of Delhi is not separate from that of the rest of the country. The city has itself seen many ups and downs.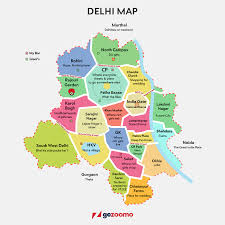 For the students of any of the classes and examinees of any of the exams must read about Delhi, its history, geography, politics etc. We feel joyous to publish some of the astonishing facts related with Delhi in the form of questions.
Delhi is the National Capital Territory of India. Haryana covers its sides and UP one side. The population of Delhi is 2.5 crore (25 Millions). The capital of Delhi is New Delhi.  Check some GK related information/ Questions from below.
Delhi General Knowledge and Current affairs Questions
Q. When was Delhi incorporated ?
Answer – In 1857
Q. When did Delhi become the capital of the country ?
Answer – 1911
Q. When did Delhi become Union Territory ( UT ) ?
Answer – In 1956
Q. When did the Union Govt bestow extra power to Delhi ?
Answer – 1st of Feb 1992
Q. How many districts are there in Delhi ?
Answer – Eleven
Q. Who are the Lt Governor and CM of Delhi ?
Answer – Anil Baijal and Arvind Kejriwal ( AAP)  respectively
Note – Arvind Kejriwal has become the CM of Delhi for the third time on 11th Feb 2020.
GK/ Current Affairs about Delhi
Q. How many members of Legislative Assembly does Delhi have ?
Answer – Seventy
Q. Who is the Police Commissioner of Delhi ?
Answer – Sh. Balaji Srivastav
Q. What is the area of the city ?
Answer – 1484 sq km
Q. What is the rank of Delhi among the cities with highest density ?
Answer – 2nd
Q. What is its official language ?
Answer – Hindi
Q. what are the State Animal and Bird of Delhi ?
Answer – Nilgai and House sparrow respectively
Q. when did the construction of Red Fort begin and end ?
Answer – 12th May 1639 to 6th April 1648 ( Total duration was 8 years, 10 months and 25 days )
Q. Who had got the Red Fort constructed ?
Answer – Shah Jahan
Q. Who was the Architect of Red Fort ?
Answer – Ustad Ahmad Lahauri
Q. When was the construction of Qutub Minar begin ?
Answer – 1200 AD
Q. Who had started its construction ?
Answer – Qutb al-Din Aibak
Q. Which union minister in the BJP Govt loves Ramleela enough to play role in it ?
Answer – Mr Harsh Vardhan ( King Janak ) in Old Delhi Ramleela
Q. Q. How many maximum no. of people can protest at Jantar Mantar and Ramlila Maidan ?
Answer – Up to 1000 and 50,000 respectively.
Q. Name the place of this city that is in great news this time ?
Answer – Shaheen Bagh located in South Delhi
Information –
Ex C.M. Sheila Dikshit died on July 20, 2019. Her life term is – 21-03-1938 to 20-07-2019. She has been the three-term C.M of Delhi.
For more questions about Delhi, keep coming.
For more  GK click here.