As a student Dr Kalam was very intelligent. Despite the fact that he had come from the poor background, he completed his education with distinction. He loved science and wanted to see India a Superpower on the basis of Science and Technology.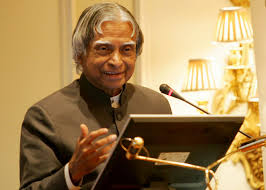 He made the country touch the skies in Science and Technology, in Space and self-reliant in Missile Programme. Under his guidance India's Atomic Programme developed significantly. India showed its Atomic Power at Pokhran with five or six blasts to check the potency of the Atom Bombs.
But more than that his main focus was on making India World Super Knowledge Power. For that he relied on the students whom he thought the Source of Unlimited Power of Mind.
True Tribute to People's President – Dr APJ Kalam
According to him, if the energy of the students is tapped sensibly, they can be bring radical transformation in the country and time shall not be far off when India will become the Super Power.
He had called this vision 2020 Vision. Therefore his post President period was spent in interacting with the students all over the country. He was fond of giving lectures to the students whenever he got the opportunity of doing that.
His lectures would be about Practical wisdom and a sort of advice and also motivational for the students. There are millions of students who were motivated by him not only by his spoken words but also with his simple living and high thinking.
He would always inspire the students to get success by giving tips. Read success mantras given by him to the future leaders/ generations. 
That's why he was the first and the only President who got so much affection and reverence from people all walks of life, especially from the students. He was such a person that can't die, he will remain immortal in our hearts and minds. Au revoir Mr People's President – RIP Dr Kalam.
Related Topics –