Prime Minister Narender Modi today addressed the US Congress. In his speech that lasted more than 35 minutes, he forced the respected members of US Parliament to give him the standing ovation 8 to 9 times. He began his speech mentioning the democratic set up of both the countries.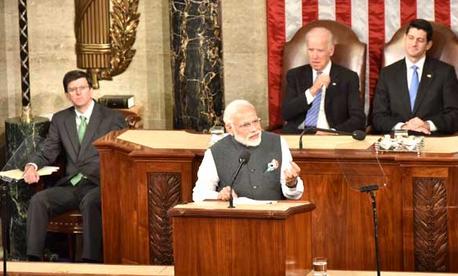 He invoked Abraham Lincoln, Swami Vivekanand, Mahatma Gandhi, BR Ambedkar, Sir Martin Luther during his speech to show the similarity of thoughts of these great people belonging to these two great nations. Read some of the highlights of the speech from below –
The PM talked about the similarity of obtaining freedom, sacrifices made by the peoples of these two countries.
PM Modi made the representatives of the US Parliament realize that India is the equal partner of the US in all the issues not the inferior one.
He made the respected members realize the influence of India in South-Asia by telling them about the support India made during various calamities in Nepal and Sri Lanka.
Modi also mentioned his recent visit to Afghanistan and the Friendship Dam,  a new symbol of friendship between the countries, which was built there with Indian help.
Highlights of PM Modi's Speech
He also praised the Afghan people for their bravery in fighting terrorism. Terrorism was the main focus of PM Modi's Speech in the House. Without mentioning the name of Pakistan, he said that the terrorism is supported by some Indian neighbor. He asked America to come and join hand in combating Terrorism.
PM Modi said there is no good and bad terrorism and categorically disconnect it from religion.
He praised America in supporting India after Mumbai and Firozepur terrorist attack.
Prime Minister Modi projected India as the emerging economy. The PM told the MPs gathering there that by 2022 all the Indians would become economically powerful. He talked about Solar Energy, Science and Technology, Space, Environment and renewable energy during his around 35 minutes' speech.
He ended his speech with the lines of great American Poet Walt Whitman –
The Orchestra have sufficiently tuned their instruments, the baton has given the signal.
And to that, if I might add, " there is a no symphony in play."