Latest information about Indian Army Rally ( Open Bharti ) in Haryana- हरियाणा में भारतीय सेना में खुली भर्ती रैली 
People of Haryana have great passion for Army. If we analyze the Indian Army, we find a great presence of Haryanvi Soldiers there. There are villages in Haryana where at least one or two from each family in the Indian Army. There are soldiers of all ranks from this state.
If there is a constable, there is also an Army General from this state. These soldiers don't hesitate to sacrifice their lives for the sake of the country. Therefore, when soldiers die on the border or in other activity, some of them belong to Haryana.
2018 Recent Rally in Haryana -
As per the notification that had come out in 2017, the process for ARO Hisar Rally will begin from 10th of Jan 2018 and end on 20th of Jan 2018. There are different posts like Soldier Clerk/ SKT Posts, Education Havaldar, Tradesman, Technical Posts etc. To get the details of the posts, please follow the job notification published in various newspapers of Haryana.
The Rally will take place at Hisar Army Recruitment Office Hisar.
So there is the tradition in Haryana for sending their young children in the Army to serve the country. These youngsters are very fit physically for such job. There are army rallies in all states such as Punjab, UP, Bihar etc.
As a result, there are Open Rallies by Indian Army in Haryana also from time to time. Thousands of youngsters participate in such rallies ( Open Bharti ). They  take part Physical Standard Test. Then they become the part of Written exam.
After that they undergo Medical Tests. There are Army Recruitment Centres/ Sub-Centres at many places in the state. We are dedicating this page for such Army Crazy youngsters of the state. This page shall contain all the information regarding Indian Army Open Bharti Recruitment Dates/ Venues / News etc.
Latest Army Recruitment Rallies in Haryana - Check Details
Ambala Army Bharti ( Open Rally ) -
| | |
| --- | --- |
| Dates | Venue of the Rally |
| 22 June to 5th of July 2017 | Mullana University |
| Districts Covered 07 | Ambala, Kaithal, Karnal, Kurukshetra, Yamunanagar, Panchkula, Chandigarh UT |
Rohtak Army Bharti 2017
| | |
| --- | --- |
| Date | Venue |
| 2/08/2017 to 11/08/2017 | Army Recruitment Headquarters Rohtak |
| Last Date for Applying is 17/07/2017 | Districts - Panipat, Rohtak, Jhajhar, Sonepat |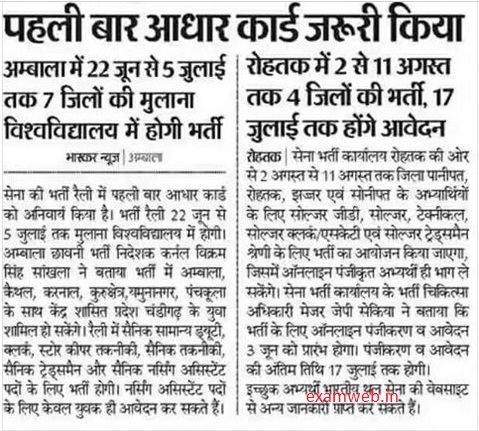 Rewari gets Army Recruitment Sub Centre ( News) -
Army Recruitment Sub Centre was inaugurated on the premises of Sainik Parivar Bhawan. Union Minister Rajnath Singh had announced the opening of this centre at the Sainik Samman rally held on Nov 16, 2016.
This centre shall provide the latest information about army recruitment to the youngsters of the area. Moreover, the retired army personnel will also get their problems regarding with their pension and other benefits resolved here.
For all information such as place of rally, schedule, application form regarding Army Rally in Haryana and other places in the country you can click here.
Official website for Latest Updates.
भारतीय सेना में भर्ती हेतु व हरियाणा में होने वाली खुली भर्ती / रैली के बारे में जानने के लिए लगातार इस पेज आते रहें।  हम समय समय पर इस पेज को आपके लिए अपडेट करते रहेंगे।  अधिक सुविधा के लिए आप इस पेज को बुकमार्क भी कर सकते हैं।