A vital life milestone is graduating from college or a university. It displays the climax of an era in education and the start of a brand-new chapter full of prospects. Finding relevant jobs after graduation and looking into work visa possibilities to continue their professional career in the United States are some of the major worries for many international students. We will examine the post-graduation options accessible to overseas students in the USA, emphasizing work visas and employment prospects.
Additionally, we will talk about the various job markets in the US, emphasizing the variety of companies and areas that provide career opportunities for graduates from other countries. You may obtain admission for an MS in US without GRE and acquire a visa after comprehending adequate information in this blog. International students can embark on a successful professional journey in the United States.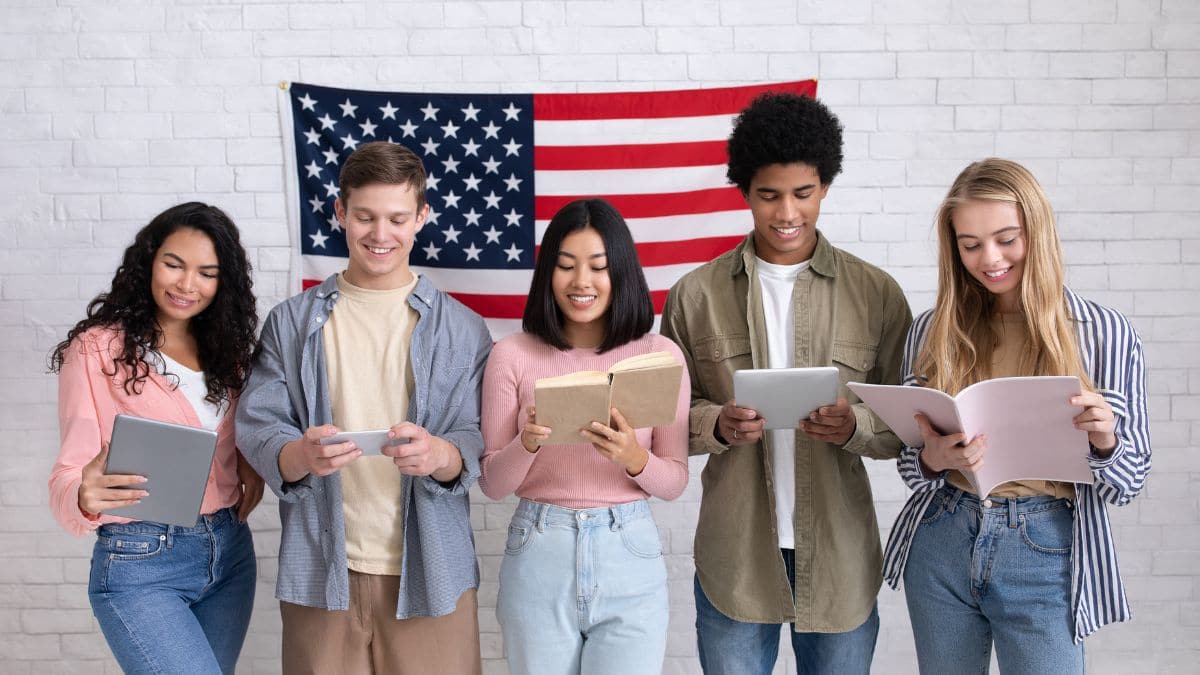 Optional Practical Training (OPT)
The Optional Practical Training (OPT) program is one of the most popular ways for overseas students to get job experience in the US following graduation. OPT enables qualified F-1 students to work in the US in an area associated with their major for up to 12 months. It can be undertaken either during or after completing the academic program.
Students on OPT can work temporarily, either for pay or without pay. OPT is a fantastic way for foreign graduates to network professionally, obtain beneficial job experience, and land long-term employment in the US.
With the assistance of the OPT program, students might put their academic knowledge and skills to use in reality. It empowers students to acquire practical involvement with their chosen area by overcoming any issues between theory and practice. Their professional growth is amplified by this immersive learning experience, which also improves their marketability to future employers.
STEM OPT Extension
For students who have majored in Science, Technology, Engineering, or Mathematics (STEM) fields, an additional extension is available for the OPT program. The STEM OPT extension allows eligible students to extend their OPT period for an additional 24 months, totalling a maximum of 36 months of work authorization in the US.
This OPT extension provides an advantage to students in STEM fields by allowing them more time to gain practical experience, enhance their skills, and secure specialized job opportunities. It also opens avenues for companies to retain highly skilled international talent. Students must have a clear training plan that complements their STEM degree during the extended term and work for companies participating in the E-Verify program.
The STEM OPT extension improves the chances of overseas students by giving them a priceless chance to get extensive practical experience and support the development of the US economy.
H-1 B Visa
One of the most sorted work visas in the US, particularly for qualified professionals, is the H-1 B Visa. With this employment-based visa, US firms hire foreign employees in specialized vocations. The aspirant needs to have a work offer from a US business, specialized knowledge or skills, and a bachelor's degree or equivalent to be eligible for an H-1B visa.
How many H-1 B visas are given yearly is pre-decided, making the application process incredibly competitive. Nonetheless, those with postgraduate education from US colleges are excluded from the standard H-1 B portion, offering them an excellent visa opportunity. International experts can work in the US and contribute their expertise to American companies and industries through the H-1 B visa.
L-1 Visa (Intra-company Transfer)
Employees can move within the same firm from a foreign office to a US location with the help of the non-immigrant L-1 visa category. It is a desirable alternative for overseas students who have found jobs with global businesses.
The candidate must have worked for the firm for around one straight year during the past three years to qualify for an L-1 visa. With the assistance of this visa, organizations might take advantage of the knowledge and skills of their worldwide staff and encourage cross-line collaboration. Additionally, the L-1 visa may pave the route for permanent residency in the US, offering excellent chances for foreign professionals to build stable careers there.
Job Opportunities in the US
The United States offers various job opportunities across various industries and sectors. The work market is expansive, with business opportunities including innovation, finance, medicine, design, research, advertising, and more. The developing tech industry in many urban cities, such as San Francisco, New York, and Seattle, draws business people and tech enthusiasts. Cities like Houston and Dallas, which give occupations in the oil and gas industry, are eminent in the energy sector. The medical sector is likewise flourishing, and there is a significant requirement for doctors, medical caretakers, and other clinical subject matter experts.
Additionally, the US is home to many global enterprises, allowing international students to work for recognized businesses. Job prospects can be found in small and large enterprises, offering varying levels of responsibility and career advancement opportunities. To navigate the job market, international students can leverage their university's career services, attend job fairs, network with professionals, and utilize online job platforms and industry-specific websites. The abundance of job opportunities in the US ensures that international graduates have many choices to kick-start their professional careers.
Conclusion
For international students pursuing post-graduation options in the United States, various work visa categories and job opportunities exist to explore. Recent graduates can acquire exposure to and establish networks in their chosen industries through the Optional Practical Training (OPT) program and its STEM extension. Professionals have opportunities to continue their careers in the US and contribute their skills and knowledge to American businesses thanks to work visas like the H-1B and L-1.
The US employment market is enormous and varied, providing a wide range of possibilities across many industries and geographies. Graduates with an MS in Machine Learning can research job openings in various sectors, such as technology, finance, healthcare, and e-commerce. Understanding and actively pursuing these post-graduation choices can help international students start a prosperous professional career in the US, fostering their personal development and the variety of the labour force in the nation.