Robert Browning is one of the great English poets of  19th Century. He was popular for his love poems and poems of optimism and most importantly for his Dramatic Monologues. Browning was born on May 7, 1812 at Camberwall. He was the son of a scholarly father and divine mother. Browning received most of the education at home. He was married to Elizabeth Barret. It was the happy marriage.
Read about William Wordsworth and his Works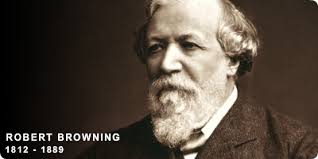 Robert Browning's Works –
His first published poem was Pauline ( 1833 ). It was followed by his second work Paracelus ( 1835). In 1840 Browning's Sordello appeared. In 1855, came his best collection of Poems called Men and Women. This anthology demonstrated his mastery over the dramatic monologue. Then came his best work called The Ring. The Book came out in 1868 and 1869. Read something about some of his famous poems.
My Last Duchess, Ferrara – It is a dramatic monologue which appeared in 1842.
The Last Ride Together – one of the Most popular and noblest love lyrics. Appeared in the volume called Men and Women. Later it became the part of the Dramatic Romances in 1868.
Rabbi Ben Ezra – One of the philosophical poems of Browning. Published in 1864 in the volume called Dramatic Personae. This poem was inspired by Rubaiyyat by Persian poet Omar Khayam.
Andrea Del Sarto – We know this poem also as The Faultless Painter appeared in Men and Women.
A Grammarian's Funeral – It became published in 1855 and appeared in Men and Women. This poem is the study of a grammarian who has spent his whole life in the  minute and uninteresting details of Greek Syntax.
The Bishop Orders at His Tomb At St Praxed's Church – First published in Hood's Magazine in 1845 and then appeared in Men and Women.
Fra Lippo Lippi – One of the finest monologues by Robert Browning. The speaker is Brother Lippi, a 15th Century Florentine Painter.
Porphyria's Lover – Published in the Monthly Repository in 1836. Later it became published in Dramatic Romances.
Also do some translation work from here.